Click here to learn more about the Azara BKRS or to make a donation.
Today I am writing to highlight a very important and meaningful challenge being undertaken by members of Azara's staff this summer. As many of you know, we lost our friend and colleague, Heather Budd to ovarian cancer in November of last year and as each of us has come to terms with the tremendous hole left in our lives by Heather's absence, we have all looked for ways to honor and remember her in both our professional and personal lives.
The Pan-Mass Challenge (PMC) is a Massachusetts-based bike-a-thon that raises more money for charity than any other single athletic fundraising event in the country. Always held the first weekend in August, the PMC raises funds for the Dana-Farber Cancer Institute, a world leader in adult and pediatric cancer treatment and research. Each summer, thousands of riders and volunteers from 43 states and 12 countries participate in the PMC, all with a common goal: to find a cure for cancer. 100% of all rider-raised funds go directly to cancer research and treatment at Dana-Farber and the Jimmy Fund.
The team of Azara riders come from throughout the company (Finance, Clinical Transformation, Sales, Delivery and Support) and each individual has their own unique reasons for embarking on this mission which they have detailed below. I want to call attention to the training and extraordinary efforts being put forth by this group. All of us at Azara stand behind them and are supporting their efforts. Cancer has affected all of our lives and families in some manner, and I am pleased our Azara family can support such a respected organization as the Dana-Farber Cancer Institute in raising funds for the groundbreaking research they conduct toward both treatments and cures. For those whose lives were touched by Heather or her work and for those who interact with these members of Azara's team, I urge you to do what you can to support their efforts in this ride.
Lastly, a public service announcement: we urge all of you, our clients, partners and friends to "GET YOURSELVES AND YOUR LOVED ONES IN THE NUMERATOR" of cancer screening measures—which is data analytics speak to say don't put off those mammograms, colonoscopies and pap smears. They might save your life.
Meet the Team - Azara BKRS: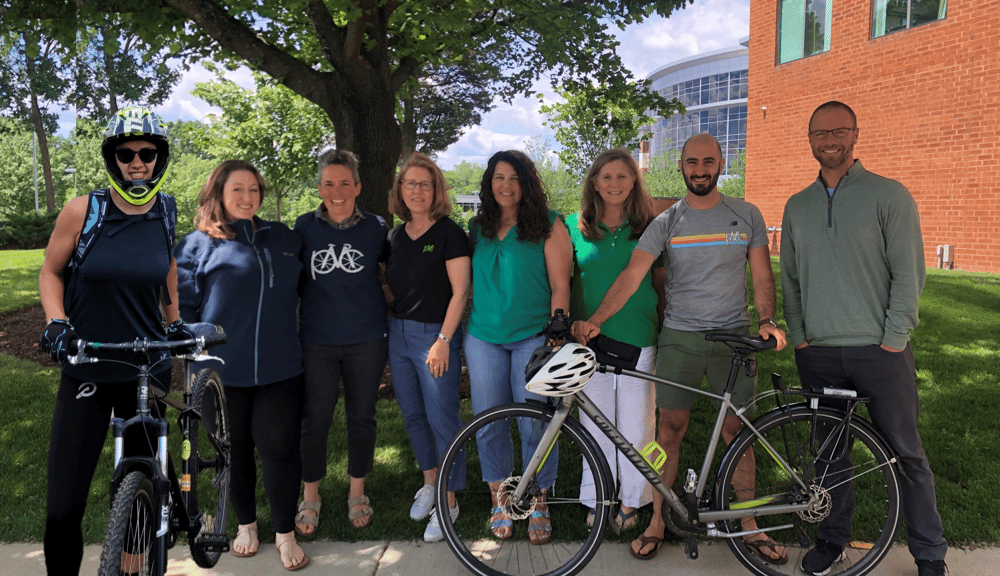 The Azara BKRS are from all walks of life each with our own story to tell but we've all been directly impacted by the loss of our dear friend and colleague, Heather Budd. Heather had a wonderful spirit and showed a level of passion every day that of course could be matched by no one—which she preferred because she was also very competitive! She was also funny, kind, contemplative, thoughtful, strong, honorable, and gone far too soon. We all look forward to riding in honor of her and can only hope to show the same passion and commitment she had every day.
We're a proud supporter of the Pan-Mass Challenge because it is leading the charge to beat cancer. In fact, last year 100% of rider-raised revenue went directly to support the Jimmy Fund and Dana-Farber Cancer Institute's tireless commitment to finding a cure.
Our team rides for those who are continuing to fight cancer and those we've lost. We want to especially recognize the following people:
Heather Budd
Bill Neal
Connie Neal
Diana Trimberger
Azara BKRS share what and who has inspired them to ride this year:
Sam Bar
This will be my first-ever fundraiser ride, and while I've been a Boston area bike evangelist for years, I have never attempted a 109 mile ride before. I know it will be both a mental and physical challenge, but well worth it for a cause this important and in honor of a memory so cherished.
Lori Beauclair
I have always wanted to ride in the PMC, not only for my love of cycling but to support the great work and hope Dana-Farber provides to those suffering with cancer. We all have been impacted by cancer in one way or another so with great pride I will ride on August 7th with thousands of other riders, all with the hope that a cure for cancer is around the corner.
Susan Boggiano
I first became involved with the PMC in 2007. I decided to ride to honor family members I had lost quite suddenly to cancer. It was such an inspiring event and the people I met and stories I heard had me coming back each year to support this fundraiser in some way, riding, volunteering, and donating. This year I am proud to say I will be riding on the Azara BKRS team in remembrance of Heather and other friends and family we have lost while supporting those that are undergoing and survived cancer.
Meg Carley
There's nothing like a long bike ride with friends and I was excited that so many other people at Azara wanted to ride together for PMC this year. I'm honored to ride for Azara and am looking forward to sweating it out together. This one's for Heather.
Emily Holzman
Similar to many of the other riders on the team, I have never done a fundraising ride before, and I am so proud to get started with such a special cause. I know how much Heather meant to everyone on our team and she would love the spirit and energy we are all sure to bring to our rides. Every person I have talked to about the Pan-Mass Challenge has a personal story about what Dana-Farber's research means to them and I could not be more excited to join forces with so many others to lend our support.
LuAnn Kimker
This will be my first 50 mile ride. It will be long, hot and hard. Heather will be on her bike riding with me in spirit–nudging me along to the end. The best support you could have. Miss you Heather.
Chris Neal
This is a wonderful opportunity to raise money for a cause that sadly touches nearly everyone's lives. I am honored to train and ride with a motivated team of friends/colleagues with a common goal. We keep our loved ones affected by cancer in our minds and hearts throughout the journey, and we are genuinely inspired by both those who have battled disease, as well as those who have contributed to the fight for a cure.
Paula Silvia
I'm excited to be a part of the PMC this year for the first time ever. As someone who has donated bone marrow and thus worked closely with Dana-Farber Cancer Institute, I'm looking forward to being able to continue to support their efforts. I'm overwhelmed by the support of my fellow colleagues who encouraged me to participate in this year's ride, and even let me borrow some equipment. This one is for my dad and for Heather, who would have loved to see me succeed. And for Diana, who has become part of my family.