Powerful

Patient Engagement within DRVS
Azara Patient Outreach helps Azara DRVS users improve patient care and close care gaps by allowing them to conduct targeted outreach programs utilizing patient information already contained and curated within DRVS.
DRVS users can now engage patients through pre-configured "Set it and Forget it" programs that automatically initiate patient contact via text, track response and follow-up actions, adjust outreach efforts and quantify results. For any program conducted, users can view the efficacy and performance of the effort using the Measure Analyzer and DRVS Dashboards to gain insights on patient response and impact on quality results.
Practice staff can now prioritize their personal outreach workload to a much smaller set of unengaged patients—those who do not respond to the automated campaigns.
Azara Patient Outreach allows users to:
Greatly expand the number of patients that can be reached

Identify care gaps or soon to be due items (immunizations, well child visits, etc.)

Initiate automated patient outreach via text

Automatically move patients in and out of the program based on their actions/responses

Report on measure improvement and response rates

Improve patient care and patient engagement

Support and educate patients for wellness and chronic care management outside of office visits*
Watch to learn how Azara Patient Outreach 'Set it and Forget it' text message campaigns can help your practice improve patient engagement and close care gaps.
Patient Outreach Connector
Azara Patient Outreach programs and features seamlessly connect with industry leading outreach platforms through the Patient Outreach Connector. These interfaces quickly and easily integrate DRVS with our text messaging partners to effectively utilize your patient data and track and measure outreach efforts.

Did you know? 82% of text messages are read within 5 minutes.
To have messages flow automatically to patients who need them and not those who don't enables us to focus on higher priority outreach.
– Azara Client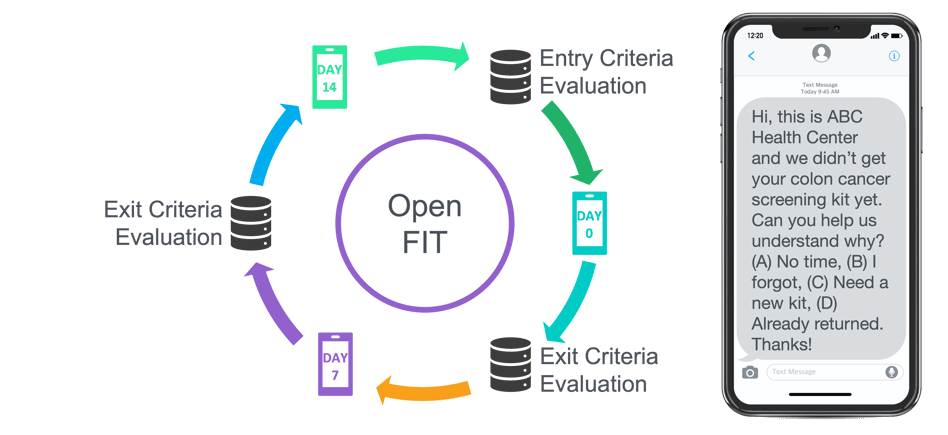 Programs Currently Available
COVID-19 Immunizations

Open FIT

Cancer Screenings (Breast, Cervical, Colorectal)

Immunizations (Childhood, Adolescent)

Well Child

Hypertension (Undiagnosed, Control)
Flu Vaccine

Untested A1c / Uncontrolled A1c

Comprehensive Diabetes (Nephropathy, Eye and Foot Exam)

Chronic Disease Management and Education Programs (Diabetes, Hypertension, etc.)

Members / Patients without Visits
NEW! APO Campaign Performance Report
This new report provides an overview of the effectiveness of an APO text message campaign and depicts the impact on patient engagement by displaying the care gap closure rate and percent of patients who made or kept an appointment after they were texted.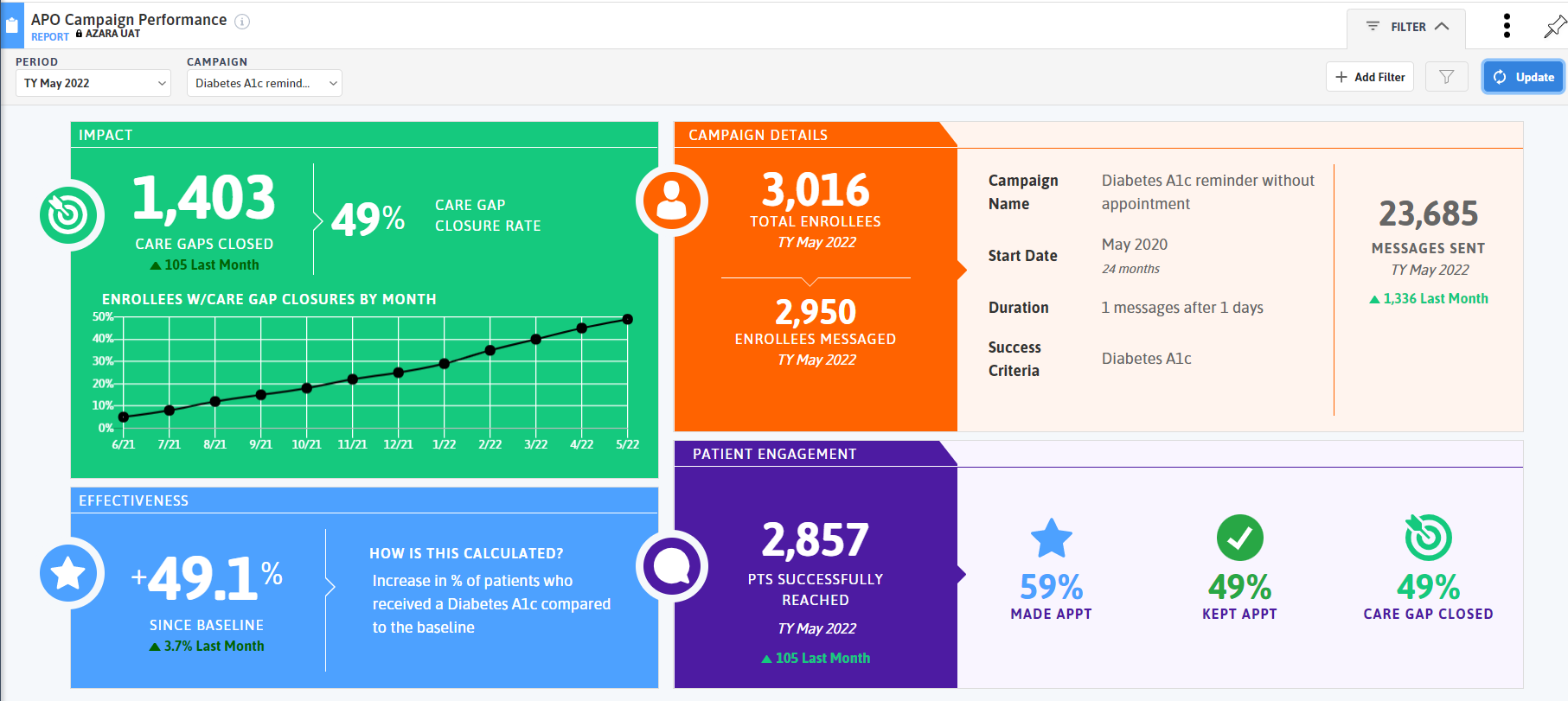 Interested in Learning More About Azara Patient Outreach or the Patient Outreach Connector?
Contact your PCA, HCCN, your Azara Account Rep or solutions@azarahealthcare.com.
Check out DRVS Help for more presentations and webinars on using Azara Patient Outreach.
*Education programs are currently only available through CareMessage
Start Empowering Your Organization with Actionable Data
Complete the form below to request a product demo.