Established by the National Association of Community Health Centers (NACHC), National Health Center Week (NHCW) is an annual tradition where health centers, their staff, and the patients they serve are recognized and celebrated for the work they do to build healthier communities. NHCW is also a time to rally public support and advocate for funding and resources at both the local and national level.
This year, like last year, the theme of National Health Center week (August 7th – August 13th) is "The Chemistry for Strong Communities". In 2021, 1,373 health centers served more than 30 million patients—that's nearly 1 in 10 people living in the United States. Health centers are a cornerstone of the healthcare ecosystem, providing quality healthcare to individuals across the nation, integrating primary care, behavioral health, enabling services (and often many more types of care) to treat the whole patient. Health centers are also leaders in value-based care and using social determinants of health to guide their work. NHCW is the perfect opportunity to celebrate their delivery of high quality, cost effective, and accessible care.
Last year, I compared health centers to enzymes—making the analogy that health centers work to lower the energy needed for underserved populations and areas to get the care they need. This year, let's think of health centers as RNA (ribonucleic acid) in the healthcare "cell". While DNA houses the genetic information, RNA is the molecule that puts that information into action.
The three types of RNA (mRNA, tRNA, and rRNA) can also be linked to the three core parts of health centers: policy and advocacy, community-building, and patient care. Messenger RNA (mRNA) is transcribed from the DNA and contains the blueprints for building proteins. Health centers (and their Primary Care Associations) advocate at national and local levels to create policies that become the foundation of center operations. Transfer RNA brings together the amino acids needed to create proteins. Similarly, health centers bring together many different partners (like payers, health information exchanges, community-based organizations, care teams, patients, and families) to create a comprehensive health care system for their populations. Finally, rRNA (or ribosomal RNA) brings mRNA and tRNA together to ensure that the sequence is accurately translated into the appropriate protein.
Like RNA, the primary care association and health centers combine policy and resources to create the structure needed to treat and support our most vulnerable populations in a constantly changing environment. RNA carries out a broad range of functions, from translating genetic information into the molecular machines and structures of the cell to regulating the activity of genes during development, cellular differentiation, and changing environments. Similarly, health centers are not only primary care practices, they also provide a broad range of services from behavioral health care, dental and pharmacy to care coordination, case management, and supportive services.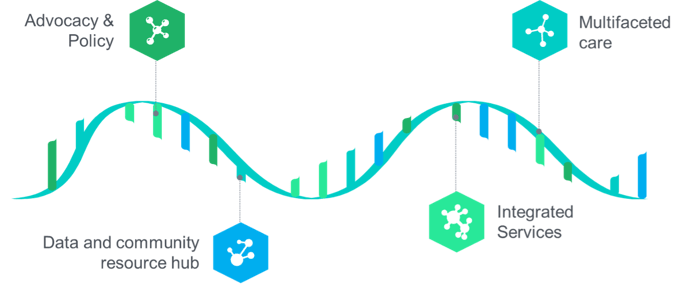 It wouldn't be an Azara blog post without some data. With the help of Brian Quinn, Analytics Team Lead, from our Analytics team, I want to share some of the impact DRVS users have had on patients across the country (and in the U.S. Virgin Islands!) in the last year: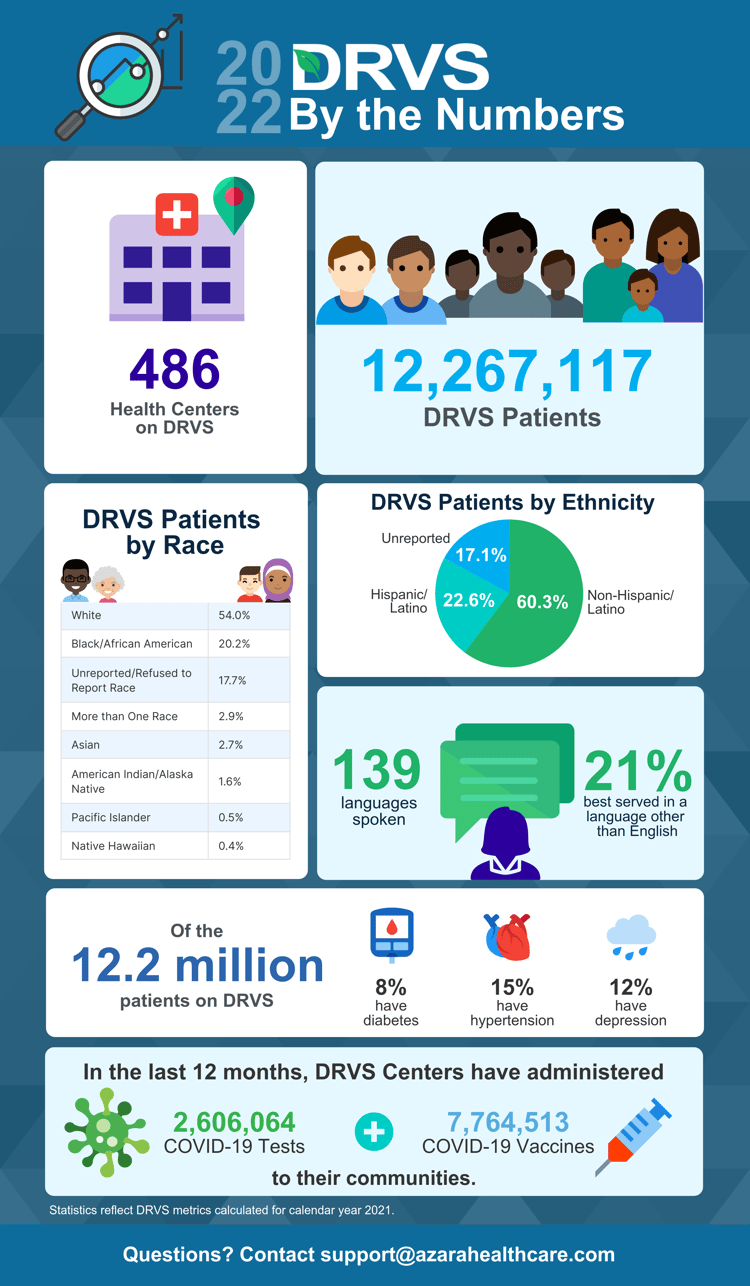 The beauty of health centers is the diversity of patients and populations they serve; young and old, urban and rural, immigrants, refugees, and migrant workers, anyone, regardless of their ability to pay. Community Health Centers continue to be among the leaders in adopting innovations for patient-centered care. We are proud to be associated with these premier care facilities, and we hope our clients feel recognized this week for all their hard work, dedication, and vision for the future. As we think of the future of community health centers, I want to close again with this quote from Audre Lorde,
"Tomorrow belongs to those of us who conceive of it as belonging to everyone; who lends the best of ourselves to it, and with joy."
From all of us at Azara, thank you for the work you've done in the past year and continue to do to serve our most vulnerable populations.