For more than 30 years, National Health Center Week (NHCW) has been an annual tradition where health centers, their staff, and the patients they serve are recognized and celebrated for the work they do to build healthier communities. NHCW is also a time to rally public support and advocate for funding and resources at both the local and national level.
This year, the theme of National Health Center week (August 8–14, 2021) is "The Chemistry for Strong Communities". In 2019, 1,385 health centers served almost 30 million patients at 12,785 locations—that's nearly 1 in 10 people living in the United States. Health centers are integral in providing quality healthcare across the nation, and NHCW is the perfect opportunity to celebrate their delivery of high quality, cost effective, and accessible care.
Continuing with this chemistry theme, I like to think that health centers work as the enzymes of the healthcare ecosystem. If you recall back to your high school biology and chemistry classes, enzymes are catalysts that are active in certain biological responses, lowering the energy needed to generate (and speed up) the outcome. Health centers bridge the healthcare gap, lowering the energy needed for underserved populations and locations to get the quality care they need. Not only do health centers provide preventive primary care like cancer screenings and immunizations, they also help connect patients to community resources and have been leaders in social justice since their inception in the 1960's. During the pandemic, health centers were able to quickly pivot to telehealth services and continue to act as crucial resources for COVID-19 testing and vaccinations. Like enzymes, health centers do not deteriorate after being used; they are used over and over again to provide care for their communities.
It wouldn't be an Azara blog post without some data. With the help of Rachel Kolbin-Gupp, Data Solutions Specialist, from our Analytics team, I want to share some of the impact DRVS users have had on patients across the country (and in the U.S. Virgin Islands!) in the last year: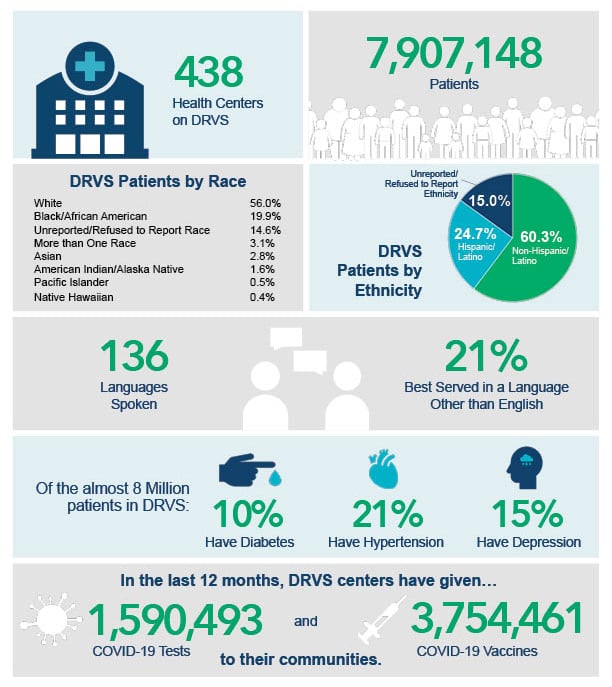 From the uninsured and the underinsured, to immigrants, refugees, and migrant workers, to people experiencing unstable housing or those involved in the justice system, to patients with chronic medical or behavioral health conditions, health centers continue to be beacons of hope to all those in need. This week, let's celebrate the role health centers have played in both our recent moments of loss and triumph. As we think of the future of community health centers, I want to share this quote from Audre Lorde, "Tomorrow belongs to those of us who conceive of it as belonging to everyone; who lends the best of ourselves to it, and with joy."
From all of us at Azara, thank you for the work you've done in the past year and continue to do to serve our most vulnerable populations.