National Health Center Week is here and we at Azara are so excited to celebrate the incredible impact that health centers have on their communities throughout the year. Health centers are community-based organizations that provide high-quality, accessible primary health care services—in 2021, almost 1,400 health centers served more than 30 million individuals across the country. Community health centers (CHCs) play a critical role in the U.S. healthcare landscape, with nearly 1 in 11 Americans, many of whom are under or uninsured, accessing care at over 14,000 delivery sites. CHCs serve all individuals and families, regardless of ability to pay, current situation, or personal background. National Health Center Week (NHCW), sponsored by the National Association of Community Health Centers (NACHC), provides an opportunity to highlight and celebrate the work of health center staff, boards, and the communities they serve.
This year, the theme of NHCW is "The Roadmap to a Stronger America." Across the country, health centers will celebrate their patients, staff, and communities and advocate for their continued support. Health centers serve as the on-ramp to the healthcare system for many individuals. Just as the more than 4.1 million miles of roads physically connect communities across the country, CHCs connect patients to a variety of resources; these include clinical services like in-house dental and vision care and specialty referrals, as well as community resources like insurance enrollment, housing support, and job training opportunities. In fact, 77% of health centers were awarded the "Patient Centered Medical Home" Community Health Quality Recognition (CHQR) badge in 2022. While health centers may face detours (like the rapid expansion of telehealth services during the early days of the COVID-19 pandemic) and roadblocks (like Medicaid eligibility redeterminations resuming in 2023), they continue to drive improvements in value-based care and health equity.
Social drivers of health (SDOH) have become a large area of focus, as health centers work to create healthy communities, provide high-quality care, and reduce health disparities. In 2021, 74% of health centers reported they collect data on individual patients' social risk factors. In Azara DRVS, 357 of 535 health centers utilize the SDOH functionality to track screenings and triggers at both the individual and population level, and Azara's partnerships with findhelp and Unite Us allow users the ability to access community resources with a single click.
Health centers play a significant role in achieving national health initiatives and strategies. From cross-cutting programs like Healthy People 2030, to target areas like Million Hearts, Diabetes Prevention Programs, and maternal health, health centers act as highways to improved individual and community health outcomes. CHCs are also charting the way when it comes to innovations in value-based care. They are well-suited for programs like CMS's Making Care Primary, ACO REACH, and other alternative payment models as they often already provide services like care management, care coordination, and social resources to the patients they serve.
It wouldn't be an Azara blog post without some data. With the help of Brian Quinn, Analytics Team Lead, I want to share some of the impact DRVS users have had on patients across 40 states (and in the U.S. Virgin Islands!) last year: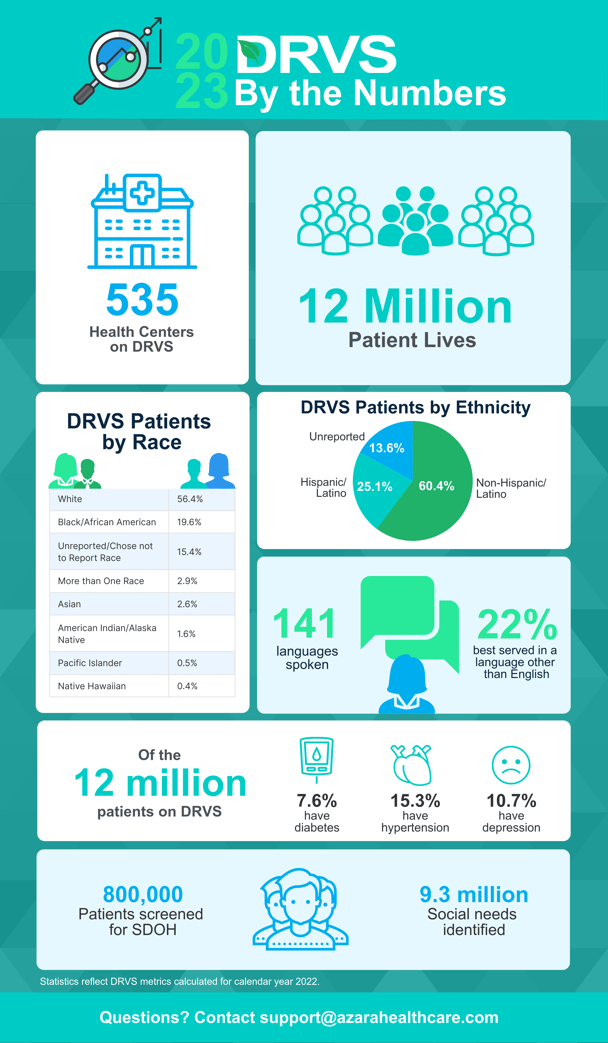 From rural villages in the remotest corners of Alaska to the bustling metropolises across the country, health centers play a vital role in improving the health of our nation. As leaders and innovators in patient-centered care, CHCs should be celebrated this, and every week. We at Azara are proud to work with such dedicated and determined organizations. As Arnold Palmer said, "The road to success is always under construction," but I have no doubt that health centers have what it takes to pave the way to a healthier tomorrow.
From all of us at Azara, thank you for the work you've done in the past year and continue to do to serve our most vulnerable populations.