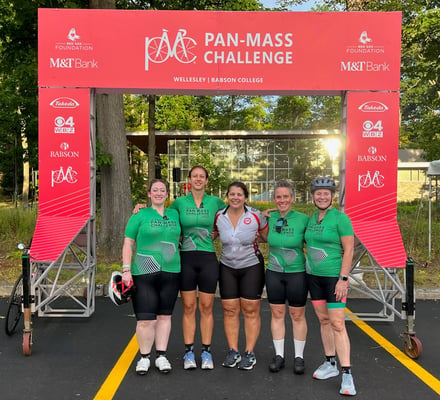 On August 6-7, 2022, eight riders represented Azara Healthcare in the Pan Mass Challenge (PMC) 2022 for the first time. This year's inaugural team ride was notable due to scorching temperatures, exceeding fundraising milestones, and new custom Azara team jerseys. The Azara BKRS trained throughout the summer, joining together on rides and even adjusting commutes to bike into the office. But regardless of training and preparation, no one was prepared for the heat riders faced over the weekend. Even with temperatures reaching 97 degrees coupled with high humidity, our team's spirits couldn't be dampened and through a great deal of effort and exertion the team all successfully finished with (sweaty) smiles.
Collectively the Azara BKRS were able to raise over $35,000, 100% of which will go directly to cancer research for the Dana Farber Cancer Center and the Jimmy Fund. The PMC ride is the largest athletic fundraiser in the world, and Azara is honored to be a part of this impressive event. In November of 2021 we lost our dear friend and colleague, Heather Budd, to ovarian cancer. And while each member of the team had their own reasons for riding, we were all brought together by the sudden and tragic loss of our friend and were galvanized to act. The team actively fundraised through wedding receptions, social media and a bit of healthy competition, matched by a generous donation from Azara. The Azara BKRS surpassed their initial goal to raise $30,000 and are planning to exceed that number next year.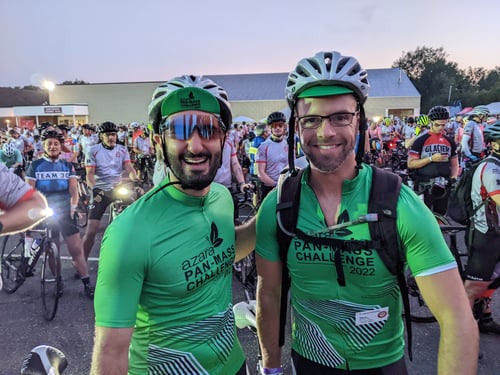 Thank you to all who supported the team and donated. If you would still like to contribute, there is still time left to help reach the team's stretch goal of $37,000, which will be subject to an additional match by Azara and increased to $40,000 as we do our part to help PMC reach their overall goal of raising $66 million this year to fight cancer.
Use this link for the Azara BKRS team site and to make a donation.