If you remember back to your school days, you probably visited the nurse's office a few times throughout your academic career. Maybe you had a headache, a sore throat, or a rash and the nurse gave you some acetaminophen, a lozenge, or saltines and sent you on your way. But 6.3 million school children also have access to a full scope of primary care services through their school system. School-based health centers (SBHCs) deliver primary and preventive care to children and adolescents (and often children's families and school staff) at facilities located in or near schools in the community. Many also provide behavioral health, oral health, vision care, and care coordination services.

School-based health centers are a growing healthcare delivery model that is poised to help the healthcare system achieve health equity for all individuals. SBHCs provide clinical, educational, and economic benefits to the communities they serve, and by bringing care to the community, SBHCs can reduce inequities and promote better health outcomes for the populations they serve. 

History of SBHCs

Established in the 1960s, the first SBHCs were deeply intertwined in the Civil Rights Movement. Like Community Health Centers (CHCs), they became central in providing preventive services to medically underserved populations—racial and ethnic minorities, rural individuals, and children from low-income families. SBHCs continued to expand between 1987 and 2001 through significant initiatives from the Robert Wood Johnson Foundation. In 1995, SBHCs and CHCs intersected when Congress earmarked community health center funds specifically for SBHCs. With the implementation of the Affordable Care Act, $11 billion in funds were included to support the "operation, expansion, and construction of health centers throughout the Nation" SBHCs were explicitly called out as eligible to receive new access-point funding. 

As of the 2016-2017 school year, there were 2,584 SBHCs in operation, with sites in 48 states across the U.S., serving 13% of school-aged youth in the United States. Schools with access to SBHCs had higher percentages of black and Hispanic patients compared to schools without and higher rates of students who receive free or reduced-price lunch.  Of school-based locations, more than half (51%) were sponsored by a federally qualified health center. However, only 272 FQHCs sponsor a SBHC, which leaves 80% of health centers without a SBHCs, creating a tremendous area of growth for both CHCs and SBHCs.

Clinical Impact

From a clinical perspective, SBHCs increase access to preventive health services and improve chronic disease control. In a literature review of School-Based Health Center studies, researchers found substantial increases in immunization compliance and other preventive services. There were benefits to students with asthma, including better control of the condition with a reduction of symptoms, incidents, and ED visits. SBHCs also impacted family planning outcomes with an increase of contraceptive use, a decrease in childbirth, and improvements in prenatal care. SBHCs with expanded care teams (41% of all locations), offer primary care and behavioral health services along with one or more of the following services: oral health, vision, nutrition, or care coordination. These expanded services led to an increase in screenings for oral health and vision. 

In addition to medical benefits, there is a growing body of research on the impact of SBHCs on the mental health of the students they serve. Youth in America are experiencing a mental health crisis—even before the COVID-19 pandemic, 7.7 million children were living with a treatable mental health disorder. Since the pandemic began, rates of psychological distress in young people have increased. In fact, the United States Preventive Services Task Force recently released the recommendation to screen children aged 8 and older for anxiety. With the integration into schools, SBHCs can provide screenings and referrals for behavioral health services. They can also offer a spot for children to access telehealth services for mental health visits during the school day. 

Educational Effects

SBHCs lay at the intersection of health and education. As such, there is a wealth of research on the impact that SBHCs have on educational attainment and school performance. Studies have found that children at schools with an embedded or co-located health center have higher grade point averages and higher rates of grade promotion (moving from one grade to the next). Children with access to SBHCs also have lower suspension rates and lower dropout rates compared to similar schools without SBHCs. With reduced time having to travel to appointments and better control of chronic conditions, kids can spend more time in the classroom learning. 

Economic Benefits

When it comes to economic benefits, SBHCs realize what I like to think of as "light green" and "dark green" dollars. The "dark green" dollars represent actual cost savings. Research has found that SBHCs generate between $46 and $ 1,166 in cost savings per person for Medicaid patients. Annual benefits of SBHCs range from $15,028 to $912,878. The wide range of cost savings come from different areas of research focus. Some just look at primary care services, while others incorporate hospital utilization (and its subsequent reduction) and unintended pregnancies for SBHC patients. "Light green" dollars represent the secondary cost savings.  Parents and guardians don't have to take time off work and secure transportation to appointments. Additionally, children who receive services at SBHCs have higher educational attainment, which research has found leads to better health outcomes and higher earnings as an adult.

DRVS for SBHCs

Health centers that receive HRSA funding through the 330 grant only have to report the number of SBHC patients served in addition to overall UDS reporting. While there are currently no national quality standards that school-based health centers are required to report, DRVS can help practices with understanding the outcomes and operations of school-based locations.

In the Location Administration of DRVS, users are able to indicate school-based locations simply by checking a box. To help streamline filtering and reporting, create a location group of your organization's school-based locations. Location groups streamline filtering across DRVS.




Once a location group is created, use it in the rendering location filter across DRVS. Apply it to the Patients With UDS Qualifying Encounters measure to understand the number of patients served by your school based locations. You can also create a custom scorecard or dashboard with clinical quality or operational measures and apply your school-based location group.

The School-Based Health Association has voluntary reporting on clinical quality measures, including child weight assessment and counseling, depression screening and follow-up and chlamydia screening. Your state or school district may have other reporting needs. Once you have created a scorecard or dashboard you can set up an e-mail subscription to share the data with practice staff, school leadership, or anyone you would like. Below are some examples of custom dashboards designed for School-Based Health Centers.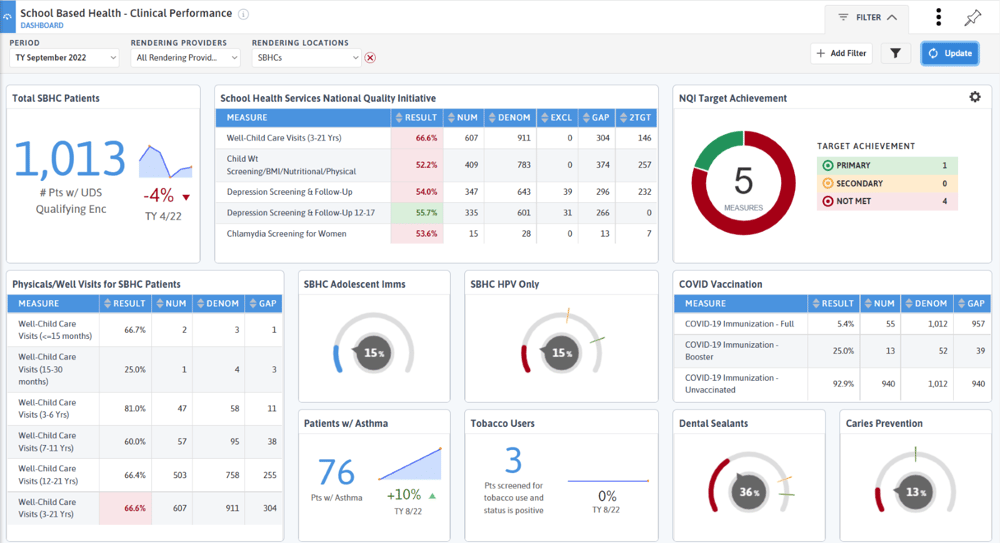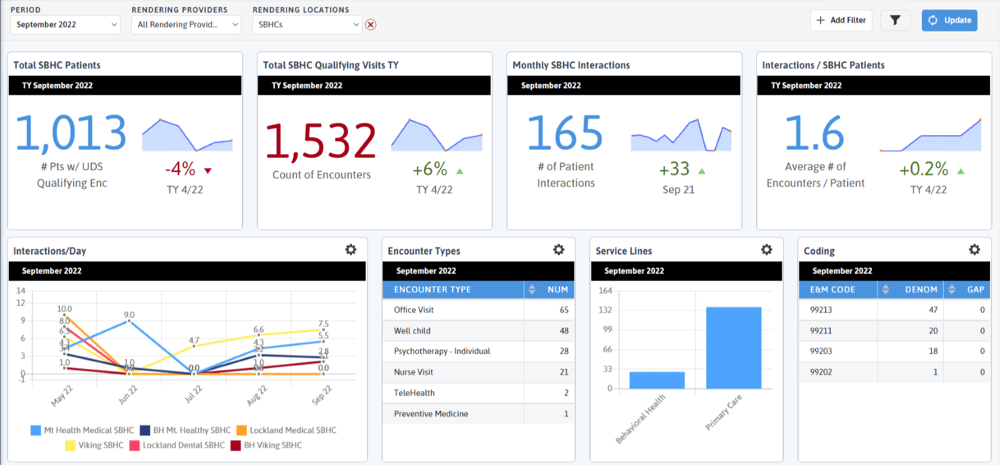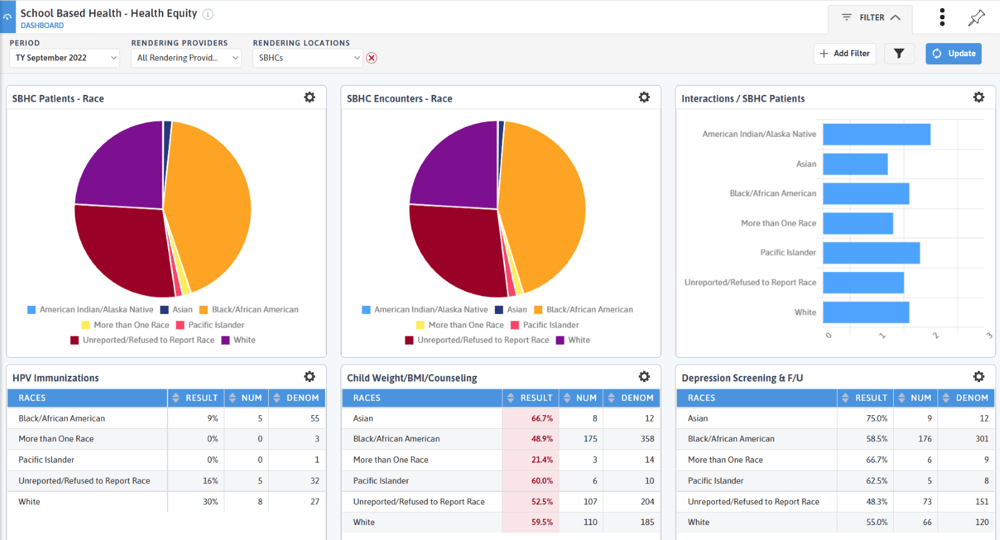 Other DRVS tools like the Immunization Management and Well-Child Visit Management reports can help identify pediatric patients needing immunizations or well-child visits. The Behavioral Health Care Effectiveness Report tracks outcomes on PHQ and GAD-7 scores. Apply your school-based location group or a custom school-based patient cohort to view outcomes and changes for your school-based patients.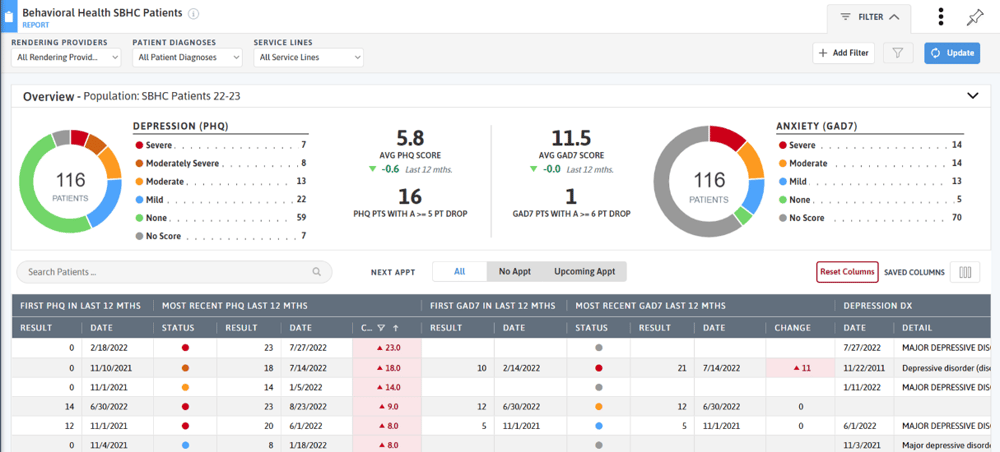 School-based health centers bring services directly to the communities they serve. They are positioned to reduce health inequities with their focus on minority, rural, and low-income populations. If you have a school-based location, we would love to hear how you are using DRVS to support your work!