Fall is in the air. Leaves are ­turning hues of yellow, orange, and red; crisp mornings lead way to balmy afternoons; people flock to apple orchards and pumpkin patches. And just as ubiquitous as pumpkin spice is in the fall, so is the color pink—especially throughout the month of October. Pink—and October—represent Breast Cancer awareness, bringing attention to the most common form of cancer for women in the United States.
Despite the prominence of breast cancer awareness events across the country, cancer screenings, including mammograms, dropped by more than 80% during the pandemic and have yet to return to pre-pandemic rates. Screening and early detection are critical in preventing deaths from breast cancer—the CDC predicts that 10,000 more people will die from breast and colorectal cancer alone due to screening delays. There are a variety of national bodies that recommend breast cancer screenings for women of a specific age. While some differ when to start screening for breast cancer, all agencies agree that by the age of 50, female patients should have a mammogram at least once every two years.

According to Behavioral Risk Factor Surveillance System (BRFSS) 2020 data, 78.4% of U.S. women aged 50-74 had received a mammogram in the last 2 years, but in 2022 only 50.28% of eligible health center patients received a mammogram to screen for breast cancer. Both national and health center rates are below the Healthy People 2030 goal of 80.5%. Breast cancer has the highest treatment costs of any cancer and is the second leading cause of cancer death in women. In a comparison of treatment costs for breast cancer, by tumor stage, the difference in costs between stage 0 and stage IV was up to $122,018 per patient. Diagnoses at an early stage also leads to a higher 5-year relative survival rate—98.2% when still localized, but only 31% when the cancer has spread to other organs or remote lymph nodes. With this in mind, it is easy to see the importance of identifying groups that might not be receiving the full benefits of screenings, ultimately resulting in cost reductions and lives saved.
Screening has contributed to a 29% reduction in the number of women diagnosed with breast cancer that has spread to other parts of the body—so how can you improve your ability to identify, outreach, and track patients due for a breast cancer screen? Azara tools, of course!
Azara Tools
Azara tools* provide a myriad of ways to support improving breast cancer screening rates. The functionality can be split into three major areas: identification and outreach, point of care tools, and follow up.
Identification & Outreach
To proactively identify patients due for a breast cancer screening, use the detail list of the Breast Cancer Screening measure. Here, you can use the toggle to quickly filter to the patients in the gap—those that are due for a mammogram. You can then narrow down the list even further to focus on patients in the gap who do not have an upcoming appointment. Export this list to an Excel file and give it to outreach staff to help patients schedule an appointment. For practices with Azara Care Connect, use the Care Coordination functionality to document outreach attempts and outcomes.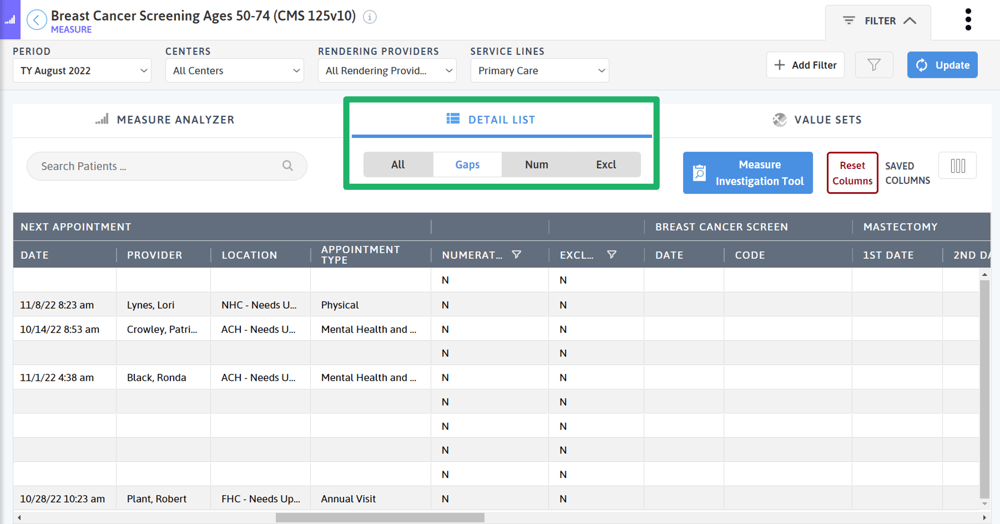 If you are looking for a more automated approach, those with Azara Patient Outreach can "set it and forget it" with the Breast Cancer Screening program. The two pre-configured text message campaigns allow organizations to contact patients with and without appointments who are due for their mammogram.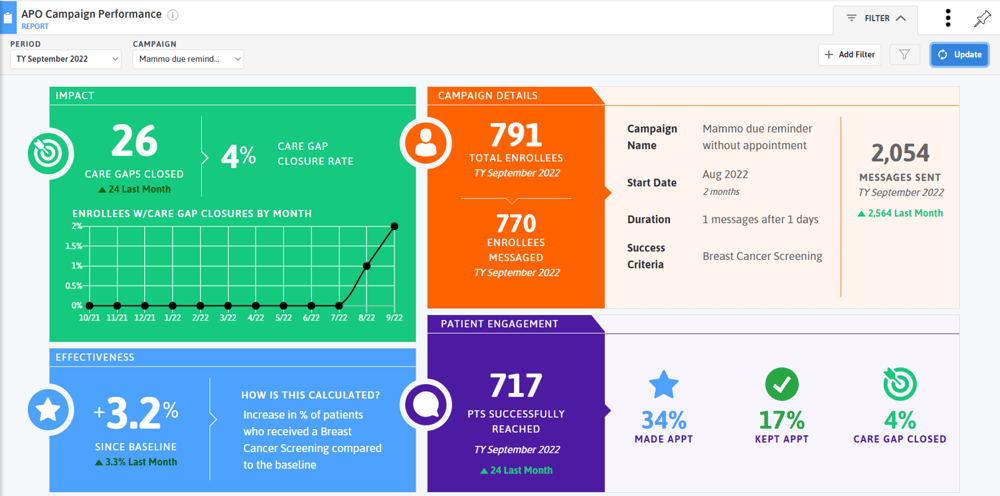 After enabling the campaigns, use the Campaign Performance report to track its success.
Point of Care
Once a patient enters your doors for their appointment, care team staff need to know how to identify individuals who are due for their breast cancer screen. Configure and enable the Mammogram alert (the default criteria is for women 50-74 who have not have a mammogram in the last 2 years, but that can be modified), then train staff who use the Patient Visit Planning report on the workflow for ordering mammograms.

For easy access to alerts and care gaps right in your EHR, use the EHR Plug In to qui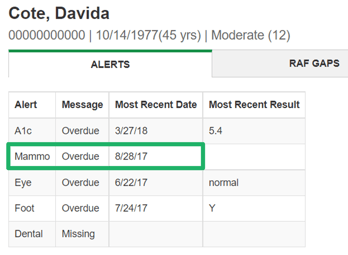 ckly see what alerts a patient has.
Follow-Up
After a mammogram has been ordered, follow-up is needed to ensure the patient receives the screening, the results are entered into their chart, and follow-up is scheduled if need be. If your practice has the Referral Management Module, use the Referral Reports and the Referral Order Type filter to track outstanding mammograms.

As part of our Abnormal Cancer Screening and Follow-Up offering, DRVS users are able to track follow-up screening rates for patients with abnormal breast cancer screening results based on their BI-RADS score. In this measure, the detail list can be used to identify patients needing follow-up.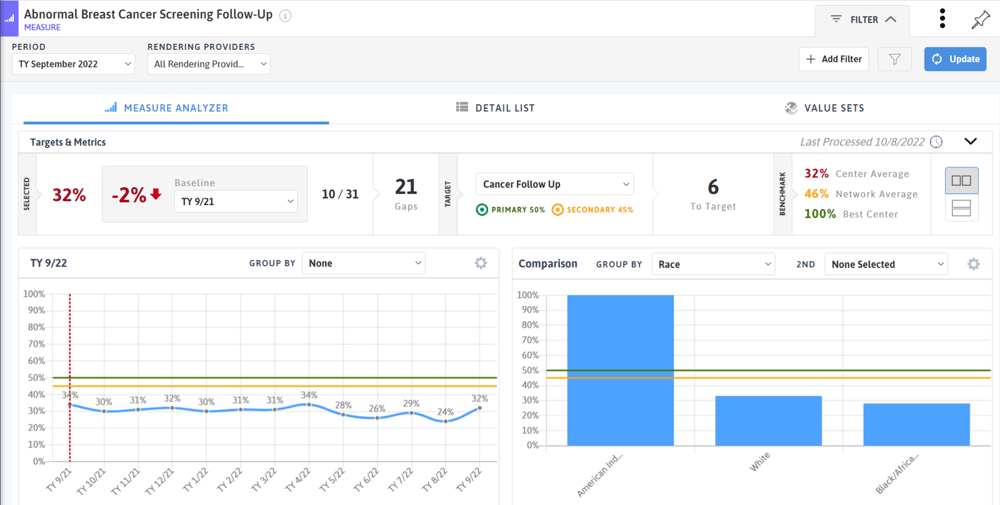 Breast Cancer Screening Success
Practices across the country have seen improvement in their breast cancer screening rates with the support of Azara tools. One community health center in the Mountain West region saw a 6.3% increase in their monthly breast cancer screening performance with the help of Azara Patient Outreach. Another CHC in the Midwest realized a 35% improvement in the measure through workflow mapping updates and PDSA cycles.
In 2018, four health centers in Alaska focused on using the Referral Management Module to improve coordination and follow-up of mammogram orders. Within 7 months, the centers saw a 15% improvement in breast cancer screening rates (that improvement has a potential of $1.5 million dollars of cost savings). After a slight downtick in 2020 (likely due to the COVID-19 pandemic), the four centers saw an increase in performance in 2021 compared to their 2019 performance and continue to improve in 2022.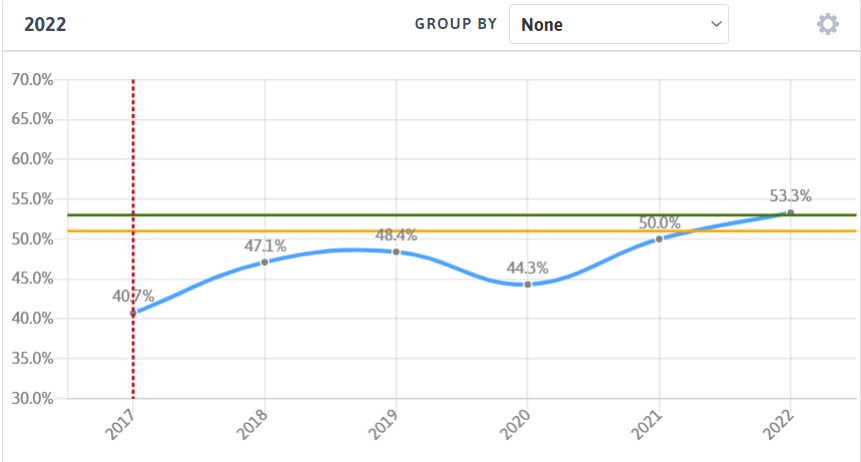 Figure 1 Four Alaska Health Centers utilize the Referral Management Module to drive improvements in Breast Cancer Screening
Other Ways to Increase Mammogram Rates
Routine mammograms are a critical component in the early detection of breast cancer. Addressing both patient and organizational barriers can help improve screening rates, leading to lives saved and costs reduced. The CDC had a detailed guide on intervention strategies to increase mammography rates. From the patient perspective, focusing on shared decision making and reminders can help improve compliance with screening. Culturally sensitive and appropriate messaging also helps increase rates among racial and/or ethnic minority populations. Interventions such as mammovans can help reach medically underserved populations. From an organizational perspective, strong workflows and standing orders allow for the identification of women needing a mammogram. Sharing performance with providers and care teams gets everyone involved in performance improvement. In collaboration with the Michigan Quality Improvement Network, we have created a Breast Cancer Performance Improvement Package to guide practices in increasing compliance with DRVS tools.
October brings us an opportunity to highlight the importance of breast cancer screening. This and every month, it is important everyone know the benefits of preventive cancer screenings, including breast, cervical, and colorectal cancer.
If you are using DRVS tools to facilitate quality measure improvement, we would love to hear from you with our new Achieve, Celebrate, Engage (ACE) program.
*DRVS tools and add on modules may require additional mappings and fees. Please contact your Client Success Manager with questions or for more information.