In preparation for UDS 2019, per the HRSA UDS Manual for UDS 2019 and updated CMS eCQM specifications, Azara has modified the logic of the numerator of the Depression Screening and Follow-Up Plan (NQF 0418 / CMS2v8) measure. As of the Azara DRVS release on June 2019, a PHQ-9 that is administered in response to a positive PHQ-2 and is also positive no longer meets the measurement standard for follow-up. In prior years, a PHQ-9, even when positive, was considered a follow-up to a positive PHQ-2 by the measure specifications. A negative PHQ-2 or even a negative PHQ-9 following a positive PHQ-2 will still be considered a negative screening result and will count as compliance with the measure numerator. However, a positive PHQ-2, not followed by a negative PHQ-9, or a positive PHQ-9 will be considered a positive screening result, either of which requires additional documented follow up.
What constitutes depression numerator criteria and 'follow-up'?
As you can see in the info snippet above, there are five ways to meet the follow-up criteria. These three: Suicide Risk Assessment, Referral to a practitioner who is qualified to diagnose and treat depression, and Other interventions or follow-up for the diagnosis or treatment of depression, all generally require mappings at the client level. Some clients may already have these mappings in place, but you may want to check what values are being considered follow-up, so clinicians and staff know exactly how to document valid follow-up for a positive depression screen. There are some CPT codes that will fulfill the follow-up criteria noted in the info snippet (for example a coded psychiatric evaluation). You can find a detailed list of the CPT codes in the 'Value Sets' tab of the measure analyzer, as pictured below, but keep in mind your health center may not commonly bill these CPT codes in practice. If that is the case, be sure to create referral types (internal or external) or other structured data fields that are specific to depression follow-up. If making a referral for follow up, the referral does not need to be completed in order to count for follow-up. Some patients may not choose to pursue further evaluation or treatment. This scenario is a reason to create a structured method for documenting the refusal of follow-up for positive depression screen. Doing so allows your practice to be given credit for recommending follow-up, while still respecting a patient's care decisions. The remaining follow-up type listed in the info-snippet is Pharmacological interventions. This set of criteria can be met by patients who have an active depression medication documented in the medication module of the EHR. If this is the chosen follow-up method, adding a depression medication to a patient's medication list will satisfy the measure.
The following diagram is an updated workflow map for the measure to provide ideas for documentation of the important data elements of the measure as part of patient care delivery. Please note this is an example of a workflow that some of our clients use. Health centers may have appropriate reasons to organize these tasks differently or may define unique follow-up steps: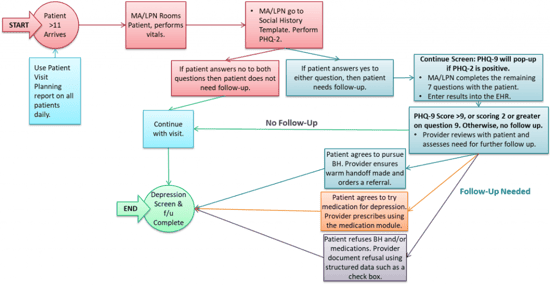 What is the impact on your center?
This change may have decreased your center's numerator performance slightly for this measure, as this update reduces your center's options to satisfy the measure numerator criteria. Some health centers may experience minimal impact on performance because they did not rely on a PHQ-9 or other additional depression screen as the follow-up.
Azara completed an extensive impact analysis of the change with the deployment of this updated code and is prepared to provide centers with the details of this analysis for their center should it be required/requested. Additionally, we have reached out individually to all centers whose results we found to be disproportionately impacted by this logic change.
How can a health center work on patients who don't have a follow-up?
One of the challenges of this measure is that the follow-up for a positive screen must be completed within one day of that screen. If a patient screens positive, the best practice for success is to document the follow-up method during the same visit as the screen took place. If this does not happen, or if you have a list of patients who were screened earlier in the year and given the legacy method of follow-up (a PHQ-9 or other depression screening tool), your practice may want to attempt to provide additional documentation of follow-up.
Using the patient detail list from the Measure Analyzer in DRVS, sort the numerator column patients to "N" to isolate those patients who need to follow up. Ask the appropriate staff to call, write, text, or portal message those patients to come back into the practice to be re-screened and offered follow-up. Ideally, this would be completed as part of a follow-up visit to the practice, but this may not be possible in all cases. In order to become "numerator compliant," each patient needs to be re-screened for depression. This has the effect of resetting the timer on

the one-day follow-up requirement. If a patient's screen is positive, then proceed with documenting the appropriate follow-up defined by the measure and your health center. If the patient screens negative in the subsequent screen, they will be considered "numerator compliant" as the measure logic looks for the result of the most recent depression screen in the measure period to determine if follow-up is needed.
Can I use a telephone encounter or telehealth visit to re-screen?
We do not believe telephone encounters can be used to re-screen patients for depression because these are not considered "face-to-face" visits, which are required by the measure logic for the documentation to be counted. However, depression screens and follow-ups that are performed as part of telehealth visits that are can be used for this purpose as these are considered virtual "face-to-face" visits. They must be properly billed and coded, conducted by an appropriate provider, and rendering services beyond a depression screening.
Hopefully, this information provides the practical information needed to understand and address the measure change including: logic changes, the new criteria for follow-up, changes you may need to make in your EHR and workflow, mappings you may need to update, the impact this may have had on measure performance, and how you can use DRVS to improve your performance. As always, if you have any questions or concerns please reach out to the Azara Support Team.