The title of this blog reads like click bait but it is quite possible to get a bump in at least 3 different measures with 5 minutes of work. How? Azara DRVS value sets have been updated recently to include new mappings that can be mapped in Mapping Admin1. Some of your referrals may already be mapped via structured clinical data, however referral names, types and workflows can change over time. Mapping the referral types is a quick and easy way to make sure your center is receiving maximum credit for the work that is being done.
Mapping Referral Types
Once in Mapping Admin, click the All tab in the top right. Next, select Provider Order Type.

In Provider Order Type, you will find lab orders that are used for special projects and referrals. The referrals are what will be mapped.
The mappings that effect the most measures are Hospice Care and Palliative Care. These mappings and this item are used as an exclusion in many popular quality measures. Use the filter on the right hand side of the screen to search for Hospice and Palliative Care referrals.

Once selected, map them to Hospice Care and Palliative Care.

New Mappings
For the BMI Measures, the new mappings are Bariatric Surgery, Dietician, Nutritionist and Weight Loss Program. All four will count for adults. The Dietician and Nutritionist mappings will also count for nutritional counseling for children. Search for key words associated with these types of referrals. Keep in mind that referrals may be to specific providers that do not show a specialty. Once found, map them appropriately.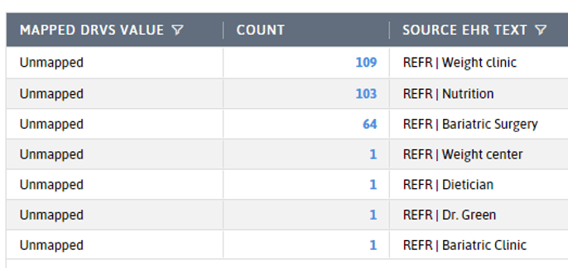 For the Depression Follow up Measures, the new mappings are Referral to Behavioral Health, Referral to Mental Health Team, Referral to Psychiatry Service and Referral to Psychologist. Like the BMI terms, search for key words associated with behavioral health referrals. Once found, map to the appropriate term.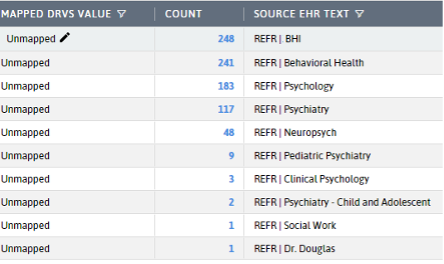 Last but not least, there are new terms used in the Tobacco Cessation Measures. They are Tobacco Cessation Quitline and Tobacco Cessation Referral. Search for referral terms that can be mapped to these types.

What's Next? Results!
Once all referrals are mapped, wait for Azara's weekend measure processing and check the results for the BMI, Depression and Tobacco measures on Monday morning. Hopefully, your 5 minutes of work will have resulted in a bump from the previous month. Below is the result of mapping behavioral health referrals for a client I recently worked with—they received a 5% bump for their 5 minutes of work!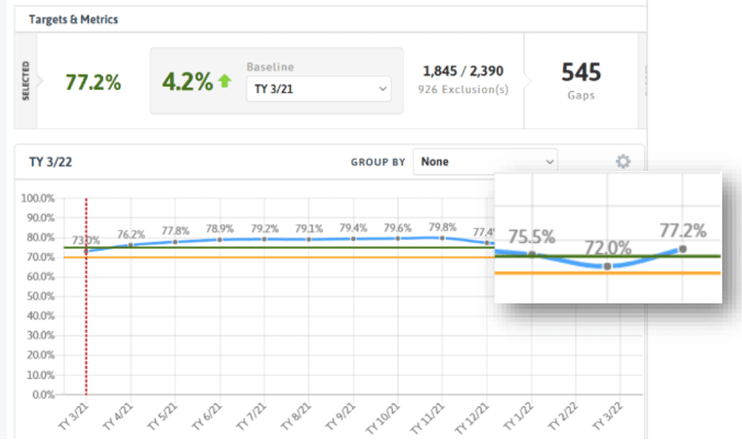 If you would like to share your successes for a subsequent blog, send me an email at Lori.Lynes@azarahealthcare.com.
1The Referral Management add on module is required for this functionality. Contact your practice, PCA/HCCN, Azara Representative or solutions@azarahealthcare.com for additional details, including pricing.