In Help! Part One a few weeks back, we discussed what resources are available in the DRVS Help section. Now let's look at how users are actually using those resources.
At the highest level, we have a lot of content and many people utilizing the materials. In a one-year period, we published 212 articles, saw 6,728 searches, and had 19,439 pages read. Unfortunately, there were 395 times when a person entered a search term that had no related pages (we monitor these failed searches for ways to improve our resources). For long-time DRVS users, you may remember what the old Help section in DRVS was like; over the past 2 years we have worked hard to make our current site easy to navigate and packed full of useful guides, videos, and exercises to support our clients in their use of DRVS. Seeing the number of users logging in and reading these materials is a great way for us to celebrate how far we have come and reminds us to keep creating new content!


Articles Read
When we investigate which articles users are reading, it's no surprise that User Guides and the Get Started Using DRVS section (green and purple respectively in the chart below) are some of the most popular pages. It's also not a shock that the Patient Visit Planning & Care Management Passport User Guide is our most popular page by far, as the PVP is also the most utilized report in DRVS. I personally love to see that users are taking advantage of the Get Started guide, as it offers new users a curriculum-style set of videos, text, and exercises perfect for acquainting new staff (or those needing a refresher) to the tool. If you have never been to those pages, you should check them out, whether or not you're new to DRVS!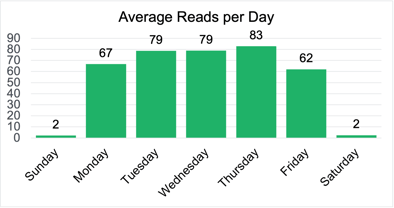 Thursdays seem to be the most popular day to use the Help section; this aligns with when we typically have our events and webinars and are referencing Help to users. We were surprised to see users reading articles on the weekend, with an average of 2 reads per day on Saturday and Sunday!
Searching Help
How do users navigate to pages in the Help section? We noticed that the most often searched terms don't match up 100% to the most read pages. For example, "mapping" is the most frequently used search term (151 searches in one year) but is only the 3rd most frequently read page (501 page reads). This tells us that many people are perhaps finding articles to read by going through folders as opposed to searching the term they are looking for.


For users who are looking for specific resources in Help, they can use the Advanced search functionality.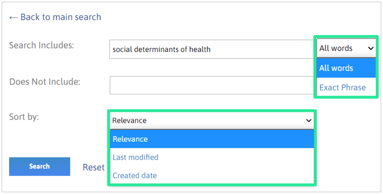 In the Advanced tab, users can choose if they want to search all the words in the search or an exact phrase. You can also exclude words from search results and sort results by relevance (which looks at the title of the page, keywords that have been added, and then the contents of the page), last modified date, or created date.
When it comes to the 395 failed searches in the last year, we categorized the terms into four buckets: 1. Misspellings, 2. Keywords, 3. New Documentation 4. Other. People seem to have a really hard time spelling "cohorts", with failed searches of "chots", "chorts", "chohert", "cohorty", and "cohot". Users also searched "browser", "chrome", "compatibility" and came up with no results, so we added a sentence to the DRVS overview page of "DRVS is best viewed on Chrome, but Firefox and Safari are also compatible browsers". Other failed search terms, like "4-cut", "Controlled Substance", and "EHR Plug In", made us realize we had some gaps in our available resources. With this information, we created a Quick Tip Clip on the difference between rendering, usual, and 4-cut provider, developed a Playbook on using DRVS to manage Controlled Substances, and uploaded brochures for our add-on modules and services.

Feedback
Finally, every user has the option to leave feedback at the bottom of the page. This information allows us to see what updates we need to make to different resources to better fit the needs of our users. In the last year, there have been 248 times someone thought the page they were on was helpful, and 34 times where they reported the page was not helpful. There is also an option to add a comment to your response; we've received 31 positive comments and 7 comments for improvement. We try to practice what we preach and use the comments to make improvements to our materials to make them more beneficial to users. If you would like to provide comments on our Help section, you can contact us at feedback@azarahealthcare.com. We appreciate specific comments – the more you tell us about what you liked or did not like, the better we can make our resources!
This last year has brought lots of excitement and new materials to our DRVS Help section. I, for one, cannot wait to see what the future holds!