Have you ever wondered how to create a cohort in DRVS? Maybe you want to know the difference between the rendering, usual, and 4-cut provider filters? Or perhaps you want to learn how DRVS can support Patient Centered Medical Home transformation and sustainability? If you've ever had one of these questions or any other related to DRVS, you are not alone. However, did you know we have a whole Help section dedicated to answering these questions and many more?
It has been one year since we introduced our new and improved DRVS Help Section, designed to offer users an easy and accessible way to find answers to their DRVS questions. Not only did the Help section get a make over, we also diversified our content and created guided learning sections for both new and experienced DRVS users.


Help History
Before we explore the content that the current Help section offers, let's take a look back at where we came from. DRVS users of more than 2 years may recall the original Help section. The page was organized into different subcategories like Learn How to use DRVS, Resources, and FAQs. While we had some similar content—like detailed user guides and recordings of webinars—it was hard to navigate and see what resources were available. When we upgraded to our latest user interface in early 2020, we added more resources (like Quick Tip Clips), but the temporary Help section was nothing more than a table you could sort and filter.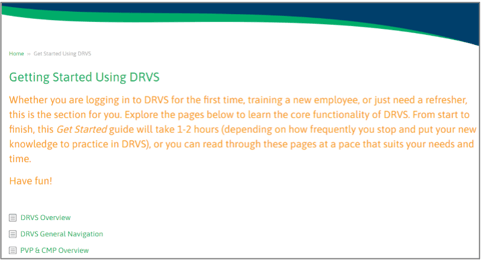 Our new and improved Help section went live in November 2020 with the help of many Azara staff, including (but not limited to) Emily Holzman, Lucy O'Connell, Kristen Jones, and David Cote. With the new platform, we had the ability to group content to help guide users on their journey in understanding DRVS. The Get Started Using DRVS and Configuring DRVS folders contain a combination of text and videos to explain specific DRVS functionality; Learning exercises are also included so users can get hands-on practice navigating and manipulating DRVS. These folders are great resources for both new DRVS users who want to get their feet wet as well as experienced DRVS users who want to review the basics.
Features & Functionality
If you want to focus in on one specific aspect of DRVS, User Guides and Quick Tip Clips are the places to go. Both offer detailed explanations of specific DRVS functionality. User Guides are text-based and Quick Tip Clips are videos, so however you like to learn, we have the resources for you! These materials offer a quick way for you to learn a particular topic.
For more experienced users wanting to know how to integrate DRVS into your organization, I would recommend reviewing the Events & Webinars and Playbooks folders. The Events & Webinars folder contains links to register for upcoming webinars or other virtual Azara events and recordings of previous webinars. Webinars are events where we share best practices and highlight how practices across the country use DRVS to improve quality. Playbooks are a new resource we have created to help guide users in integrating DRVS into their practice. Instead of answering the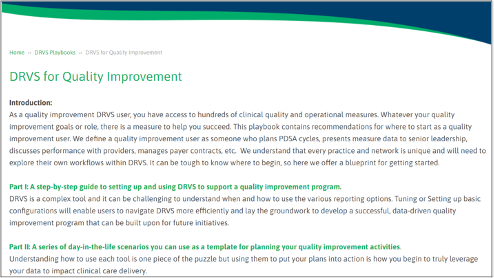 "how" for DRVS functionality (which you can find in User Guides or Quick Tip Clips), Playbooks help answer the "why". They offer sample workflows for using DRVS on a daily, weekly, or monthly basis and contain best practices we've curated from practices across the country. Currently, we have Playbooks for Quality Improvement, Controlled Substance, Closing Care Gaps, Point of Care, and Transitions of Care. We are continuing to expand the Playbooks that we offer; if you have any suggestions for what you would like to see, please email feedback@azarahealthcare.com with comments for Playbooks or any other DRVS Help material.
Additional Resources
In addition to our DRVS-specific resources, we also have a wealth of material related to Azara and the healthcare industry. In the Azara Resources folder, you'll find our latest blogs and success stories in addition to DRVS add-on modules and offerings. In the Best Practices folder, you'll find sample workflows for popular clinical quality measures and resources related to NCQA HEDIS®, NCQA PCMH, HRSA, and GPRA. We also have recordings of sessions from our virtual conferences for you to peruse.
Overall, the Help section currently has 212 articles for users to utilize to deepen their understanding and application of DRVS. As we continue to develop the functionality of DRVS, we also continue to create and update material to support users in understanding and operationalizing DRVS. We welcome any suggestions at feedback@azarahealthcare.com
Stay tuned for Part 2, coming soon, where I will share DRVS Help usage details and data.