When we think of DRVS, we may immediately think of quality reporting. Now that the UDS reporting rush is through, let's explore some ways to drill into specific patient populations – in this case, patients with a diagnosis of Autism Spectrum Disorder (ASD). In light of Autism Acceptance Month, I'd like to emphasize some useful tools within Azara DRVS that we can use to help identify and provide better care for our patients with ASD this April and beyond.
What is ASD?
Before we dive into the tools that can be used at your practice, let's begin by defining ASD. What exactly is it? The National Institutes of Health defines ASD as "a neurological and developmental disorder that affects how people interact with others, communicate, learn, and behave." People diagnosed with ASD may have trouble communicating and interacting with others, have limited interests and repetitive behaviors, and endure symptoms that make the day-to-day extremely difficult – including challenges functioning in school, work, and other settings.
According to the CDC, "about 1 in 44 children [have] been identified with autism spectrum disorder." This statistic has more than doubled since 2006, but the pace of support services has not kept up. In fact, one study conducted in 2018 found that "few adults with ASD [are] receiving autism-specific assistance no matter their level of cognitive functioning." Several families that took part in this study stated that service agencies and college disability support offices are rarely meeting the needs of young adults with ASD. The inadequacy of the available services has caused symptoms in many of these young adults to worsen, highlighting the need for "pediatricians [to] understand family concerns and develop anticipatory guidance strategies."
What can we do to better understand the needs of our patients with ASD? Are patients receiving the appropriate services to help them manage their ASD, or are there other methods of additional support that we can ensure that they have access to? Are there resources that we can provide to these patients' caretakers and guardians to provide them with guidance and support? DRVS is here to help us navigate the best course of action and care for these increasingly prevalent challenges.
Identifying Patients with a Diagnosis: ASD & Custom Registries
The first step to answering these questions is to identify the patients. By creating a custom Registry, the possibilities are seemingly endless for the information we are able to pull in about our patient population diagnosed with ASD. Below is a custom registry that I built to display some of the data elements that can be useful when thinking about and preparing for visits with these patients: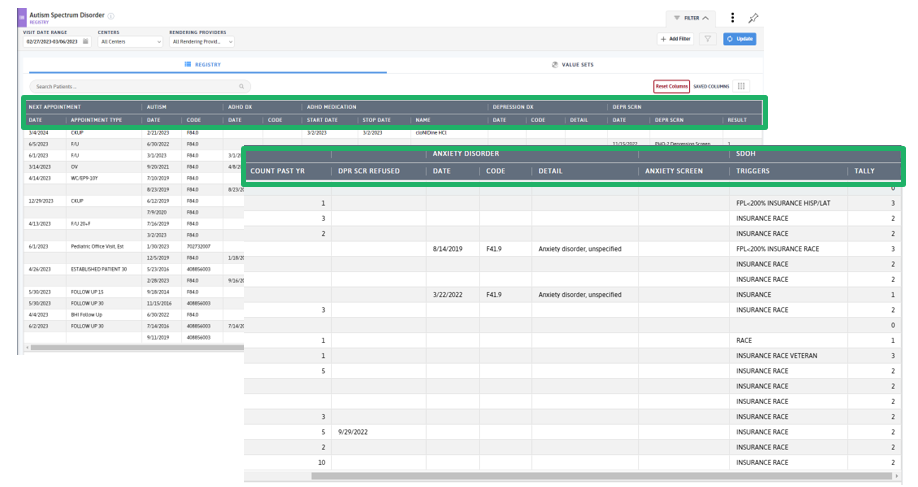 The above custom Registry grants us visibility into the status of each patients' upcoming appointment. This allows us the opportunity to generate an outreach list for our front desk staff to contact anyone who needs to be seen and does not currently have an upcoming appointment scheduled. Next, we can see when the diagnosis of ASD occurred and the code associated with that diagnosis. Most patients with ASD have at least one comorbidity, such as ADHD, depression, or an anxiety disorder. We have oversight into where the overlap of diagnoses occurs by displaying these comorbidities alongside the patients' ASD diagnosis. We can also determine if patients are taking medications to help manage their comorbidities. Lastly, we are able to see how many social drivers of health (SDOH) triggers a patient has, as well as what those triggers are.
Drilling into Disparities: ASD & SDOH
With the prevalence of ASD on the rise, studies show that awareness and access to ASD support services have increased amongst racial and ethnic groups; however, the prevalence of ASD in communities of color "still lags behind that of white children." Furthermore, according to the American Academy of Pediatrics, children of color are diagnosed with ASD later than white children are. Access to treatment services is far more limited amongst children of color, and these patients often realize worse health outcomes due to a lack of timely, appropriate treatment.
Being able to view patients' social drivers of health (SDOH), race in particular, is fundamental to evaluating the health equity of this population and ensuring that all patients receive adequate care regardless of race.
We can take our custom Registry a step further by adding an SDOH filter to identify patients diagnosed with ASD who also have an identified Race trigger:

Now that we know how race ties to ASD and how to filter by different SDOH triggers on our custom Registry, we can determine the actions that we are able to take. Are there available resources we can provide our patients with race triggers? What kind of resources can we provide to our patients with ASD who have identified transportation, education, or employment triggers?
Tracking Patients: ASD & Cohorts
Another tool we can use within DRVS to track our population is a Cohort. By creating a Cohort, we are able to drill down very granularly into a specific group of patients that we want to track across all of the measures, reports, scorecards, dashboards, and registries available in DRVS.
Let's take a look at a use case for a Cohort for our patient population with a diagnosis of ASD. According to Autism Speaks, nationwide data shows that "most autistic adults are unemployed or underemployed, despite having the skill sets and expertise to excel in the workplace." Perhaps we have a list of resources we'd like to provide to our patients with ASD who are in the process of transitioning into adulthood and want to begin a job search, or have transitioned into adulthood and remain unemployed. We'd like to drill into our patient population to identify those patients with a diagnosis of ASD who have come in for a visit this year and have identified Employment as an SDOH trigger so that we can provide them with these employment resources.
By adding an SDOH filter, we can generate an updated list of patients who have an Employment trigger:

We can then create a Cohort for this group of patients:

Opportunities at the Point of Care: ASD & The PVP
Now that we have created our Cohort of patients with a diagnosis of ASD that have identified an Employment trigger, we can now apply this Cohort to our Patient Visit Planning Report (PVP) by adding it as a filter to help prepare for these patients' appointments:

Below is one patient example within this Cohort on the PVP:

When our clinical team has access to new resources to assist with SDOH triggers identified by our patients with ASD, we can quickly take action by creating Cohorts and filtering the PVP by these Cohorts to uncover opportunities where patients should be provided with resources at their upcoming appointments. In this particular use case, we have scanned all upcoming appointments from 3/21 – 3/24 for any patient diagnosed with ASD who has identified an employment insecurity and has had a visit this year. With the click of a button, we found that Bert Thomas falls into this Cohort and has an appointment on 3/22. We can now have employment resources prepared for him to assist him with his job hunt before he even sets foot into the waiting room.
Managing Populations: ASD & Dashboards
So far, we have identified ways to drill down granularly into our patient population with a diagnosis with ASD. But what about the bigger picture? How can we look at this patient population in a more wholistic way? One of my favorite tools in DRVS is the Dashboard – specifically, a custom Dashboard that we can tailor to exactly what we want to view (and leave out the things that we don't need!) I created this custom Dashboard to take a look at the population of patients with a diagnosis of ASD as a whole: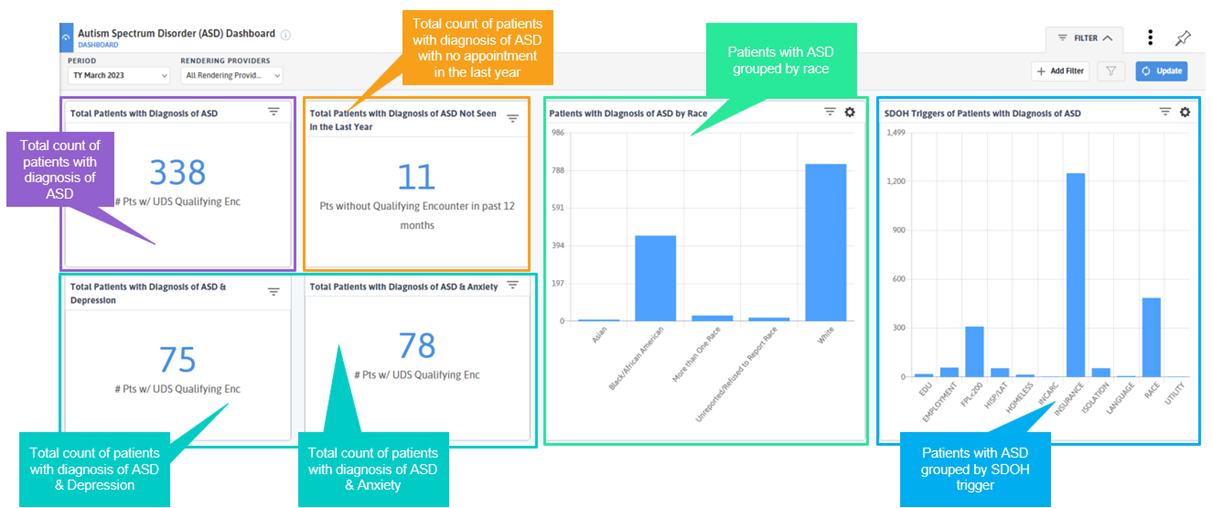 Beyond the bigger picture, this Dashboard also allows us to dive into more detailed patient-level data. By clicking on any of the blue numerical values, a detail list of patients will automatically generate so that we can see who the patients are that make up this number (including their demographics, usual provider, last encounter, insurance type, etc.).
DRVS Tools and Beyond: ASD & Acceptance
Autism Acceptance Month, which takes place every April, is all about understanding and accepting people with a diagnosis of Autism Spectrum Disorder, as well as placing an emphasis on treating our friends, family, colleagues, classmates, and neighbors with ASD with kindness and compassion. Beyond that, it's about providing individuals with the support they need to manage their ASD and thrive within their communities. That begins with all of us. I encourage you to apply the tools outlined above in a way that is meaningful to your practice's work with this population. We at Azara would love to hear from you about how you are celebrating Autism Acceptance Month at your practice, as well as the creative ways that you are already identifying and providing care for these patients.
Please feel free to send me an email at kaitlyn.gordon@azarahealthcare with any of your ideas and feedback!