The United States is experiencing a mental health crisis—the last three, pandemic-era, years exacerbated existing social stressors, taxing an already overwhelmed mental health system. Tough topics such as structural racism, gun violence, and climate change are prominent in national conversations, while intra- and interpersonal issues like losses from COVID-19, social media, and reintegrating into a "post-pandemic" world worry individuals and communities. Groups facing a disproportionate impact of mental health crises include lesbian, gay, bisexual, transgender, queer (LGBTQ+) communities as well as children and adolescents across the country. This June, we aim not only to celebrate our LGBTQ+ friends, family, and neighbors, but also shine a light on the health disparities these communities face.
Lesbian, gay, bisexual, transgender, queer, and intersex communities face unique health challenges. A combination of structural, interpersonal, and intrapersonal
stigma impact psychological processes that can manifest in behavioral health problems. Sexual and gender minority (SGM) populations have higher likelihoods of developing behavioral health conditions. These SGM populations include, but are not limited to, individuals who identify as lesbian, gay, bisexual, asexual, transgender, Two-Spirit, queer, and/or intersex. A recent report by the United States Census Bureau found that lesbian, gay, bisexual, and transgender (LGBT) adults have consistently reported higher rates of symptoms of both anxiety and depression than non-LGBT adults during the COVID-19 pandemic. In the United States, SGM adults have a higher lifetime prevalence of suicide attempts compared to the general population—11-20% for sexual minority adults and 41% for gender minority adults compared to 4% for the general adult population.
The Youth Mental Health Crisis
In December 2021, Surgeon General Vivek Murthy issued an advisory detailing the increase in psychological distress in youth. Even before the COVID-19 pandemic, rates of anxiety, depression, and other behavioral health challenges were increasing. Between 2011 and 2015, youth psychiatric visits to emergency departments for depression, anxiety, and behavioral challenges increased by 28%. During the pandemic, 25% of youth experienced depressive symptoms and 20% experienced anxiety symptoms. The new surgeon general advisory aims to address the urgent public health crisis of the mental health of children, adolescents, and young adults further exposed by the COVID-19 pandemic.
LGBTQ+ youth sit at the center of a troubling intersection of these two crises. The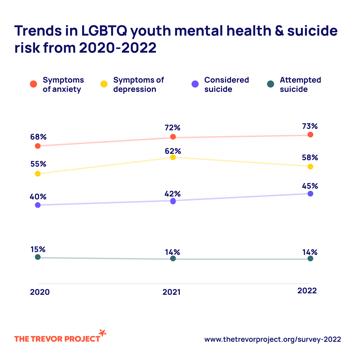 Trevor Project, a leading advocacy group for LGBTQ youth, surveyed nearly 34,000 LGBTQ youth ages 13 to 24 across the United States to understand topics such as mental health conditions, suicide risk factors, and access to mental health care. In 2022, 45% of LGBTQ youth seriously considered suicide and 14% of LGBTQ youth attempted suicide. These startling rates are not equal across race and ethnicity—21% of LGBTQ Native/Indigenous youth, 19% of Black youth, and 17% of multiracial youth attempted suicide in the past year, compared to 12% of white youth. Not only do LGBTQ+ youth have increased rates of behavioral health conditions, they are also not able to seek the care they need. The Trevor Project found that 60% of those surveyed wanted mental health care but did not receive it.
Using Data to Drive Change
The concerning increases in behavioral health needs necessitates the availability of actionable data. Without data, healthcare organizations are unable to gain insights into the behavioral health needs of their unique populations.
The functionality available within DRVS allows users to:
Identify patients needing behavioral health screenings,
Investigate trends in screenings and care by patient characteristics such as sexual orientation, gender identity, race, and ethnicity, and
Improve outcomes by facilitating coordinated care.
At the point of care, users can leverage the Patient Visit Planning (PVP) report to better understand patients on the schedule and their care needs. The PVP highlights the patient's sexual orientation and gender identity, key diagnoses, risk factors, and social drivers of health, while also providing screening and care opportunities. All staff working with patients—from medical, dental, and behavioral health providers, to care coordinators or case managers—can use the PVP to help inform the care they deliver to patients.

With many behavioral health clinical quality measures available, practices can explore trends in screening rates by sexual orientation, gender identity, race, and ethnicity. In the screenshot below, sexual and gender minority patients have higher rates of positive depression screens compared to the average patient population.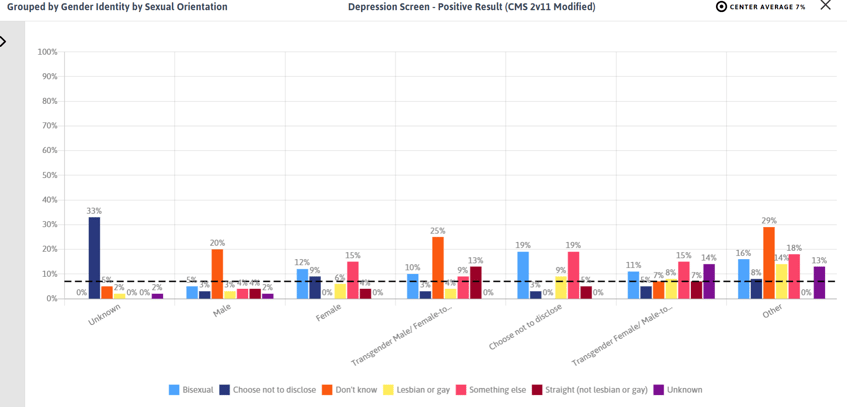 Operational measures in DRVS allow for insights into visit trends for SGM patients across different service lines. Measures such as Most Recent Visit (All) or Interactions/Patient can be used to understand who is utilizing the services your organization offers.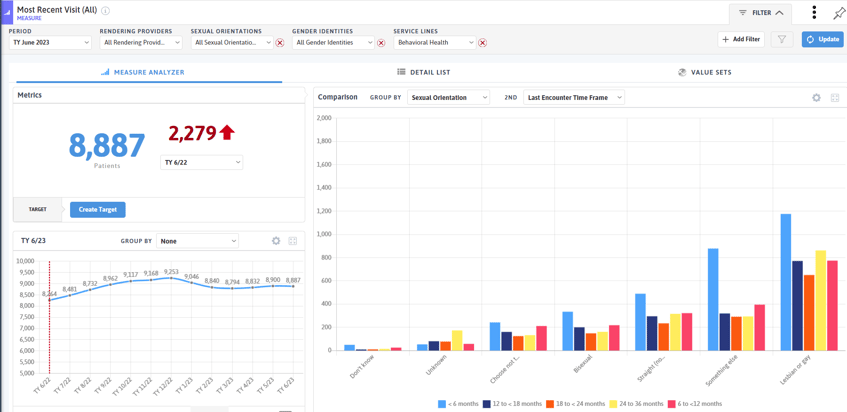 At the population management level, Care Effectiveness Reports and custom registries offer a wealth of patient-level information all in one easy to access location. Here, users can combine medical, behavioral health, operational, and demographic information to identify patients for outreach, care coordination, care management, or other programs offered to support patients. With the Age filter, users can focus their attention on LGBT+ youth.

Access to data is critical to drive improvements in outcomes and reduce health disparities. With the increasing toll of behavioral health conditions on LGBTQ+ populations and youth, it is critical that practices offer comprehensive and culturally sensitive care. June is a month of celebrating LGBTQ+ communities, but all year long we must work to improve health outcomes for these patients and populations.
If you are using DRVS to impact the behavioral health outcomes of your LGBTQ+ or youth populations, we would love to hear from you with our new ACEs program.