By: Molly Wack and Kaitlyn Gordon
If you're one of the 430 centers using DRVS that just received a 2022 CHQR badge, you know the Community Health Quality Recognition program well. If not, now is the time to get started earning that badge next year. CHQR badges allow health centers to stand out from their peers and champion the work they do to improve patient outcomes.
We know what CHQR stands for, but what exactly does it do? CHQR is a HRSA program that awards badges to health centers and look-alikes (LALs) that make notable quality improvement achievements in the areas of access, quality, health equity, health information, technology, and COVID-19 public health emergency response for the most recent UDS reporting period. To be eligible for the 2022 CHQR badges that were just awarded, centers had to submit their completed UDS data on time, use an EHR to report on clinical quality measures for their patient populations, and resolve any progressive action conditions as of June of 2022.
CHQR – The Badges
There are 11 badges that a center is eligible for through CHQR. We've outlined each below: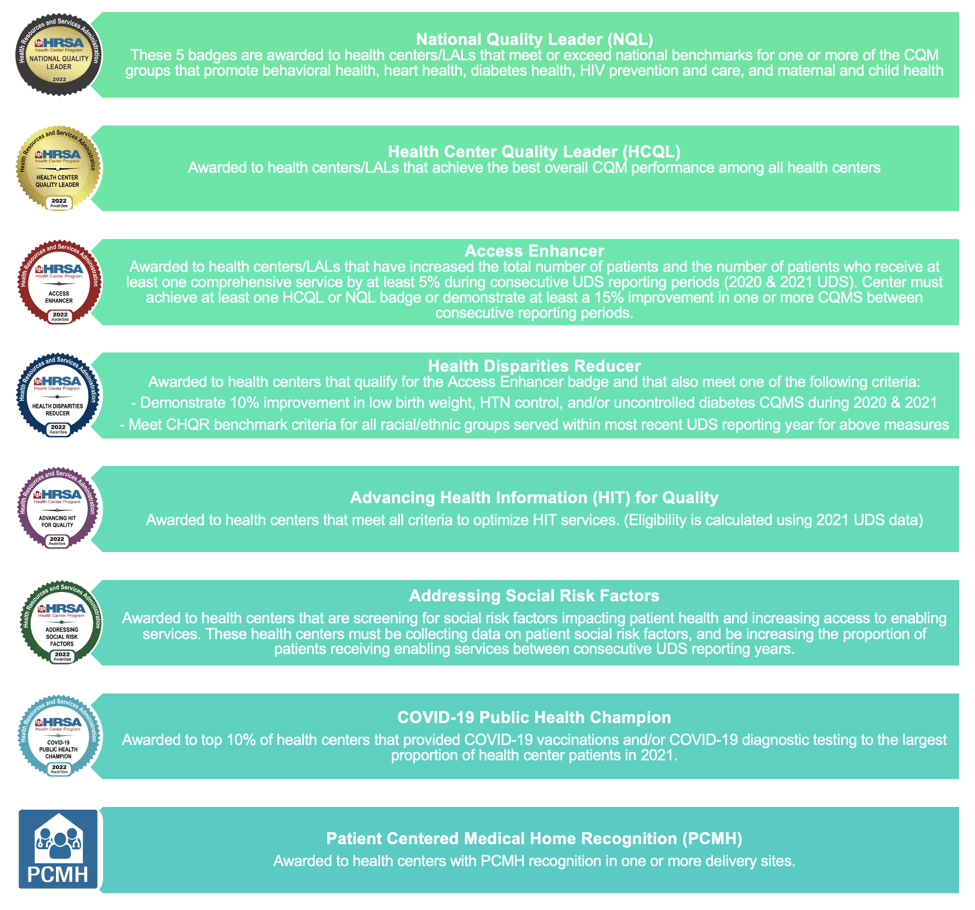 CHQR – The 2022 Awardees
DRVS users continue to exceed our expectations, with 98% of centers using DRVS earning at least one badge. Almost a third of DRVS centers received either a Gold, Silver, or Bronze Health Center Quality Leader badge; 43 centers were awarded Gold, 41 silver, and 49 bronze. In fact, while making up 29% of eligible centers, DRVS users earned 34% of all badges awarded, a whopping 1,400 badges! The most common badge for DRVS users is the Patient Centered Medical Home—PCMH—recognition badge (it helps that DRVS is a prevalidated vendor for NCQA PCMH recognition).
One interesting statistic is that 79% of DRVS centers earned the Advancing Health Information Technology badge, compared to just 65% of the general awardees. It's probably no surprise that centers who have adopted DRVS have also integrated other technologies into their operations and delivery of care. Almost half (6 of 13) of the awardees of the National Quality Leader – Heart Health badge are DRVS users. DRVS has the population health tools needed to support tobacco use screening and cessation, aspirin and statin therapies, and hypertension control.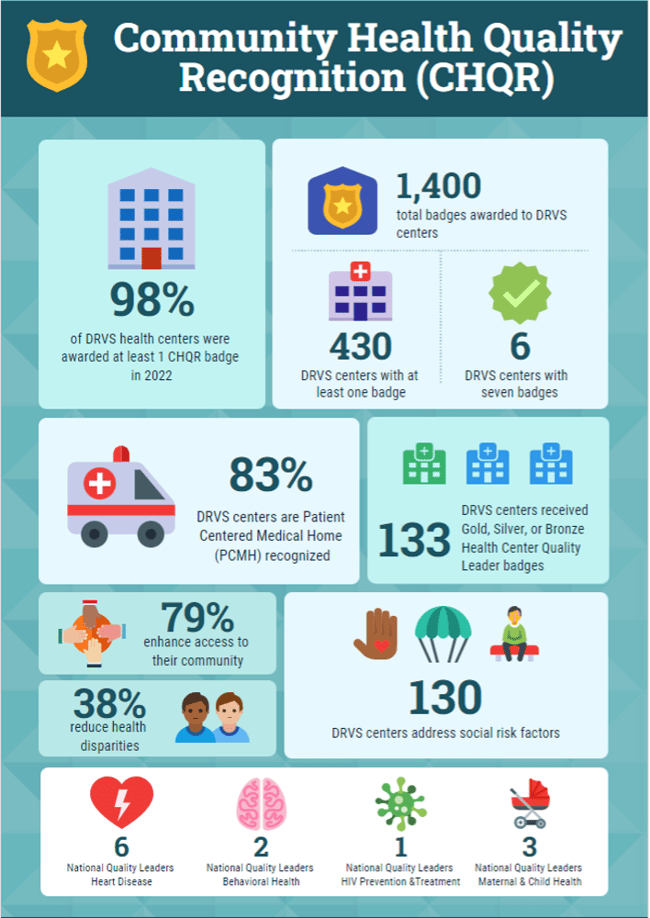 CHQR – The DRVS Tools
Recently, we put DRVS to work and created tools and resources to track the measures associated with the National Quality Leader badge and the Health Disparities Reducer badge for one of our networks.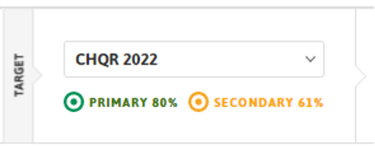 First, we worked with the network to establish CHQR targets for each measure associated with CHQR and then set those targets in DRVS to track performance. In the example below, the primary target was set to be the CHQR criteria percentage, and the secondary target was set a little below the primary:
Once the targets for the network were set in DRVS, we created a scorecard to display the measures, how many patients need to close care gaps to reach the targets, as well as their baselines: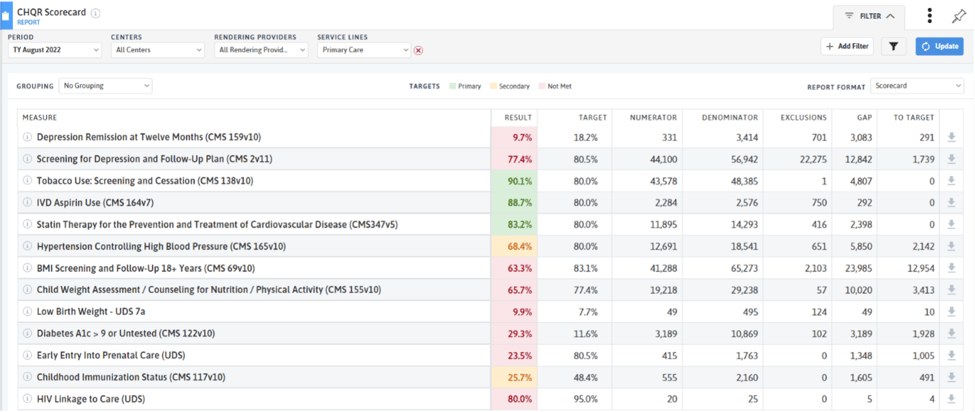 We created a custom dashboard that graphically displays an overview of the network's CHQR performance.
On the left, there is a target achievement widget of the CHQR scorecard we built. The network can see the total number of measures associated with CHQR, a breakdown of how many of those measures they're meeting their primary and secondary targets on, as well as how many measures they are not currently meeting targets on.
In the middle, there are individual target achievement widgets for each badge. These serve the same purpose as the target achievement widget of the CHQR scorecard to the left of it, but also allow the network to drill in deeper to each individual badge.
To the right, there is a mini scorecard for each of the badges. This enables the network to drill in even more and see the specific measures that comprise each badge, as well as their performance as it correlates to the set targets.
Being able to see these CHQR components visually enables the network to monitor their current goals when it comes to CHQR criteria. At a glance, they know which measures are meeting CHQR criteria for, which they're almost meeting, and which need significant improvement. They can also easily see how many measures they're acing for each badge, and how many they aren't. Having the data to track current state performance is the first step at driving improvement in these associated measures.
We will be working on a dashboard available to all users in the future, in the meantime, feel free to utilize the tips above to build your own CHQR tools!
As always, we are extremely proud to partner with such innovative and important organizations. We would love to hear how you use Azara tools to earn CHQR badges and improve the health of your communities.