Community Health Centers (CHCs) are known for being pioneers and innovators when it comes to increasing quality, reducing disparities, and improving population health. Since 2021, the Health Resources and Services Administration (HRSA) has awarded top CHCs with Community Health Quality Recognition (CHQR) badges to celebrate the work being done to advance health center excellence. The CHQR program recognizes health centers that "have made notable quality improvement achievements in the areas of access, quality, health equity, and health information technology for the most recent UDS reporting period."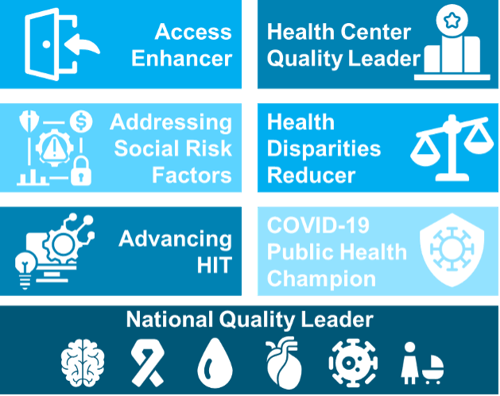 Health centers are eligible for 12 different badges across seven categories (shown at right). CHCs must hit certain targets for clinical quality measures or expand the breadth and depth of services offered to the community to receive certain badges. For the Health Center Quality Leader Badge, organizations must have the best overall CQM performance based on the 2022 UDS adjusted quartile rankings. Eligibility criteria is updated each year, so any comparison of badges overtime should acknowledge potential differences.
Health centers using DRVS rocked the CHQR badges again this year! 85% of DRVS health centers were awarded at least 1 badge and 444 centers received a total 994 badges. Centers using DRVS outperformed their peers in a number of badge categories, including Addressing Social Risk Factors, Advancing Health Information Technology, and Health Disparities Reducers. DRVS centers were high achievers in the National Quality Leader – Heart Healthbadge. This is no surprise given our work with the American Medical Association and their MAP BP™ program aimed at improving blood pressure control.
Following is a summary of this year's badge recognition: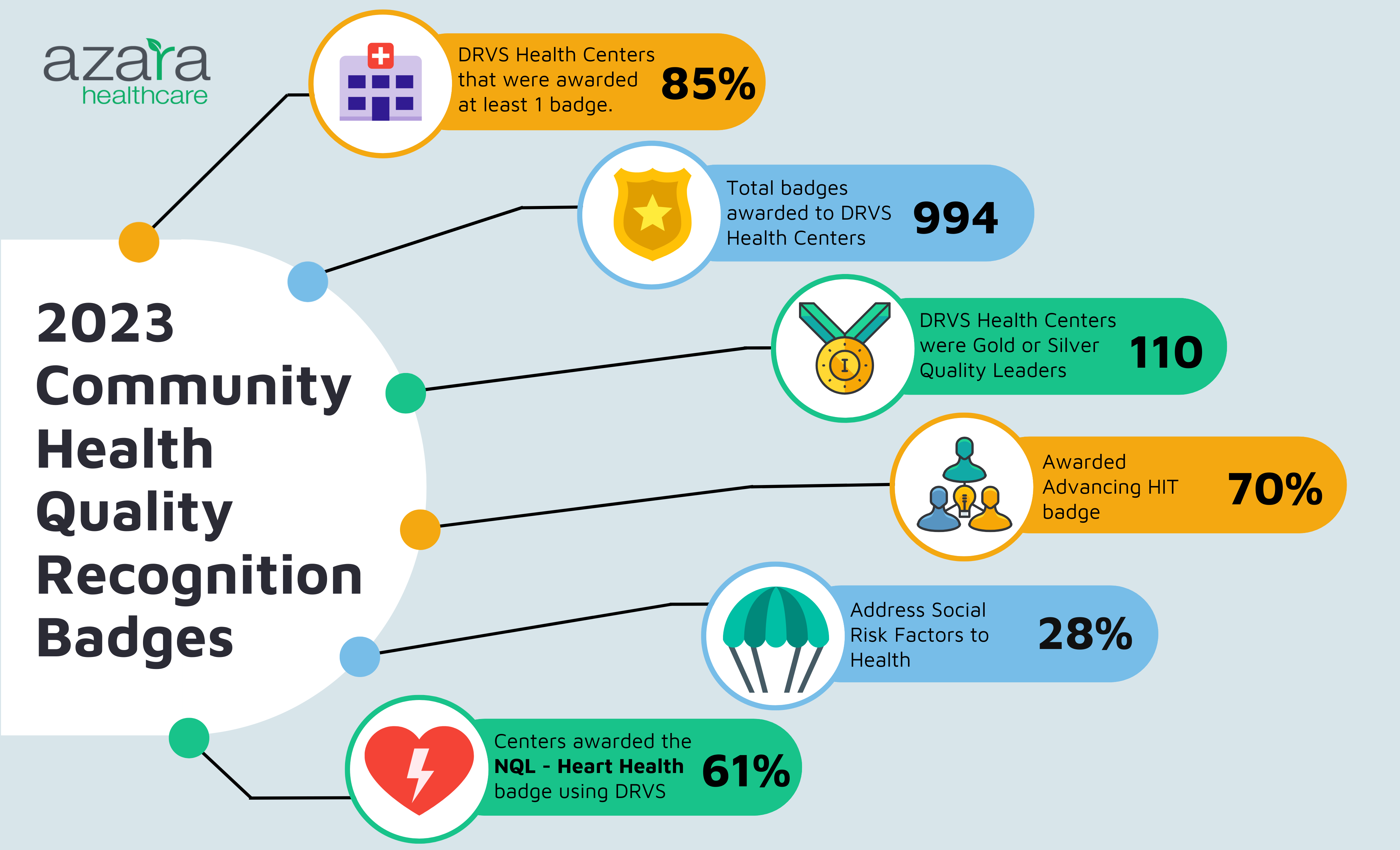 As always, we are extremely proud to work with such trailblazing organizations that support improved community health outcomes. If you use Azara tools to support your work and received this year's CHQR badges, we would love to work with you on our new Achieve, Celebrate, Engage program. Share how you ACE'd your CHQR badges and have the chance to win Azara swag!
Contact solutions@azarahealthcare.com to learn more about how Azara Healthcare can empower your organization's population health and value-based care initiatives.