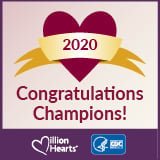 Azara congratulates its clients named 2020 Million Hearts ® Champions. Million Hearts has recognized 15 solo practitioners, large health systems, community health centers, and specialty groups as 2020 Hypertension Control Champions. In their work, these Champions were able to achieve blood pressure control for at least 80% of their adult patients with hypertension.
Five of the nine FQHCs named 2020 Champions are DRVS users, who along with other Champions, cared for more than 200,000 adults.
La Clínica Tepeyac, Inc. - Denver, Colorado
Maple City Health Center - Goshen, Indiana
Northeast Missouri Health Council - Kirksville, Missouri
PrairieStar Health Center - Hutchinson, Kansas
Valley Professionals Community Health Center - Bloomingdale, Indiana
Valley Professionals Community Health Center - Rockville, Indiana
This year's Champions join other Azara clients previously recognized by Million Hearts including Lynn Community Health Center in 2018.
Learn more about Million Hearts Champions: https://millionhearts.hhs.gov/partners-progress/champions/index.html