Waianae Coast Comprehensive Health Center
Hawaii's Waianae Coast Comprehensive Health Center Boosts Patient Care, Staff Collaboration and Satisfaction with DRVS Patient Visit Planning Report
In Brief
Waianae Coast Comprehensive Health Center (WCCHC) significantly improved patient care outcomes, clinical quality measures (CQMs) and staff collaboration through participation in a pilot program that integrated the DRVS Patient Visit Planning Report (PVP) with the center's daily wokflows. Upon the pilot's completion, WCCHC expanded the use of the PVP to care teams throughout the center.
About the PVP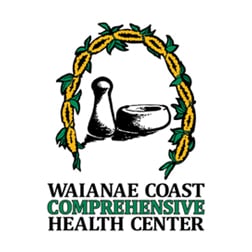 The PVP or "huddle report" provides actionable data listed by provider, patient, and in the order of each day's scheduled appointments. Care team members, such as medical assistants (MAs) and licensed practical nurses (LPNs), review the PVP before and during the morning team huddle. PVP information includes:Patients due for preventative screeningsCondition-relevant patient alerts, such as diabetes A1c tests and blood pressureRisk factors, such as smoking, obesity, and mental healthHealth centers value the PVP because it aligns testing and treatment with a patient's visit.
The approach signicantly decreases the likelihood of missed care steps. Patients receive important treatments and preventative screenings while they are at the health center.
The PVP also helps providers streamline care team communication. They can untether themselves from tasks that are more appropriate for other team members. Providers also bene t from more exam room time with patients, with which they can educate and motivate patients about changes that can improve their health.
The WCCHC Pilot
WCCHC implemented the 12-week PVP pilot with Azara's initial guidance and primarily focused on two clinics: the pediatric clinic at the main center (Waianae) and Waipahu Family Health Center. During the planning phase, clinic leaders tailored the pilot to the center's needs, which was a seven-week process. Leaders used that time to determine which CQMs to include on the PVP and to determined each care team member's roles and responsibilities. Procedures were built around work ow, morning huddles, standing orders and standing actions.
Next, Azara and WCCHC project leaders held daylong kicko meetings at the Waianae and Waipahu sites. Care teams participated in exercises and discussions that addressed value-based care and visit planning improvement. They also tackled barriers to implementation. Medical Assistants, providers and ancillary sta received hands-on PVP training and joined providers for mock care team huddles.
During the onsite training, sta learned to distribute care tasks more appropriately, thus removing several barriers to e cient care. They also learned to confront cultural barriers that can exist in any care team. In some care team cultures, team members may be hesitant to challenge the decisions of higher-ranking members or they may not o er opinions that could yield favorable outcomes. Research shows that identifying and removing cultural barriers improves care team collaboration and generates better sta satisfaction and better patient care outcomes.
Key Measures Rise at WCCHC
The center used its March 2015 CQMs as the baseline for the pilot and compared them to measures recorded in May 2015. Several measures improved shortly after the pilot's kickoff as care teams integrated the PVP and adapted to the new workflows.
WCCHC Expands Pilot to Additional Sites, Care Teams
The pilot successfully engaged all care team members. Regular follow up meetings and communication of progress occurred during the pilot. MAs, providers and care team members embraced the PVP, and center leaders appreciated its impact on staff collaboration and patient care quality. A few months after the pilot ended, WCCHC leaders expanded the PVP to care teams throughout the center. The center, with minimal guidance from Azara, replicated the best practices developed during the pilot. Quality measures and patient outcomes continued to improve. Within one year, the center surpassed its targets on four of the six measures it had identified for the PVP pilot. WCCHC credits the PVP with contributing to an increase in several Uniform Data Set (UDS) improvements for calendar year 2015.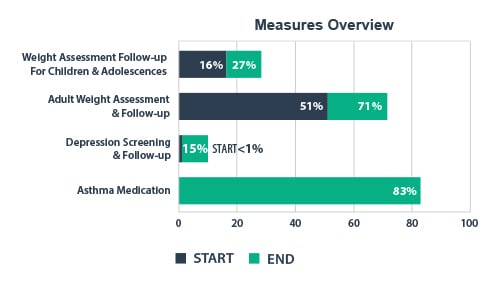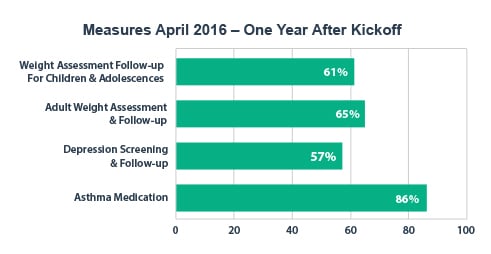 About Waianae Coast Comprehensive Health Center
Located on Oahu, Hawaii's rural western shore, WCCHC integrates traditional Hawaiian care values with cutting edge technology, medical innovation and modern best care practices. The six-site center serves 29,000 patients and handles more than 170,000 annual visits.
WCCHC's comprehensive patient services include: emergency care, behavioral health, dental care, diagnostics and a pharmacy. Its main campus features an array of scenic walking trails that are designed to promote spiritual healing and mental wellbeing. WCCHC's Native Hawaiian Healing Center promotes traditional healing and cultural education, practices and traditions.
The Hawaii Primary Care Association has recognized WCCHC for its outstanding services. Individual care teams received recognition for dental care, behavioral health, quality improvement and scal management. WCCHC has pioneered the use of electronic medical records (EMRs) in Hawaiian community care, and is among the rst centers to adopt the patient-centered medical home (PCMH) care model.
WCCHC is part of the Accountable Health Care Alliance of Rural Oahu.